Cobb carrying undefeated mark at Tropicana Field
Cobb carrying undefeated mark at Tropicana Field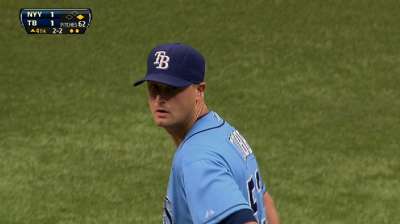 ST. PETERSBURG -- Alex Cobb received a no-decision in Wednesday night's 7-3 loss to the Red Sox to remain undefeated at Tropicana Field this season and has not lost at home since Sept. 17, 2012, against the Red Sox.
He was not aware of his success at home, where he is 5-0 with a 3.09 ERA in 11 starts this season.
"Yeah, I'm surprised, especially since I've given up six before I've gotten an out," Cobb said. "There's a lot of good fortune that goes into that, because there's been a number of games I can remember off the top of my head where I deserved to get the loss. I think it's one of those anomalies in baseball. You search hard enough and there's going to be a stat for something."
While Cobb didn't place a lot of stock in the significance of being undefeated at home, he did allow that most pitchers are normally more comfortable pitching at certain stadiums than they are at others.
"Yeah, I think any time you pitch somewhere multiple times, whether it's at home or on the road, you kind of get comfortable," Cobb said. "You know what to expect. The mound, pretty much the environment you're going to be working in. It helps you visualize better just the preparation of going into the game.
"Just things like going from the bullpen to the game mound and knowing the adjustments you have to make. Here, the groundcrew does a great job with our bullpen mound and our game mound in making sure they are exactly the same."
Cobb explained that at different stadiums the plate can feel closer or farther away.
"This one feels really true," Cobb said. "Feels real normal, whether that's just because I'm used to it or not, I don't know. But definitely the most comfortable I feel is here."
Bill Chastain is a reporter for MLB.com. Sam Strong is an associate reporter for MLB.com. This story was not subject to the approval of Major League Baseball or its clubs.