To progress, Weaver suggests looking back
To progress, Weaver suggests looking back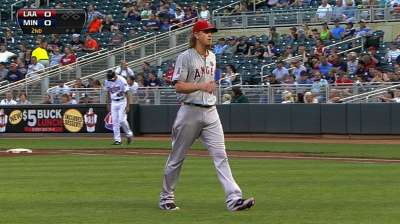 TORONTO -- Jered Weaver is winding down his eighth season with the Angels. And in that time, the ace right-hander has seen a lot of change, from slap-hitting to power, under-the-radar to grand expectations and, most importantly, winning to losing.
The Angels entered Thursday with 14 wins in their last 19 games but need more than a miracle to avoid a fourth consecutive postseason absence.
In some ways, Weaver believes they need to get back to their old style.
"I think we changed our approach as far as how Angels baseball [was]," Weaver said. "When I first got here, it was doing the little things -- stealing bases, first-to-thirds -- and we didn't really sit back and wait for home runs and things like that. I think that now, we have some guys with some sock in the lineup and guys who hit home runs. The lineup is a little different from that regard.
"At the same time, we still have guys like [Mike] Trout and [Erick] Aybar that steal bases and things like that. But if you look at the lineup in '07 compared to now, it's definitely different."
Weaver, however, still believes the Angels can get back to that way with the present-day personnel. Asked if this current crop is good enough to be a playoff team if given a clean slate next year, the veteran starter said: "Everybody healthy, yes."
But each of the last two seasons, the Angels have dug a deep early hole out of which they have not been able to climb. Last year, they brought in Albert Pujols, lost 25 of their first 43, surged back into the race, then faded down the stretch. This year, they brought in Josh Hamilton, went 9-17 in April and, until recently, have not played any sort of consistent baseball.
"We have a lot of talent in this clubhouse, man; it's just a matter of time before it starts clicking," Weaver said. "I think that the way we used to go about things and the way we go about things now has taken a little bit to get used to. We've seen glimpses of us working together and playing well, and there's obviously been times where it hasn't worked out and we've been struggling. We have to find that happy medium where we're playing good, consistent baseball."
Alden Gonzalez is a reporter for MLB.com. Read his blog, Gonzo and "The Show", and follow him on Twitter @Alden_Gonzalez. This story was not subject to the approval of Major League Baseball or its clubs.