Sometimes, they're just out there winging it
Sometimes, they're just out there winging it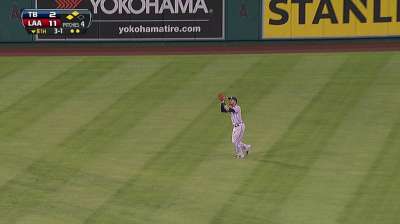 Nationals first baseman Adam LaRoche plays in a city plenty familiar with lobbying efforts, and he's run a small one of his own with manager Davey Johnson. The 10-year veteran isn't angling for more playing time or a better spot in the lineup, but rather for a chance to try something he's never done in the Majors.
Should the appropriate circumstances arise, LaRoche wants to pitch.
"I'd like to see if I've still got it or not," said LaRoche, who recalls throwing in the low 90s during his days as a college hurler, and last toed the rubber in Double-A in 2003.
Several of LaRoche's peers no longer have to wonder about their abilities. This season, 12 position players have combined to make 14 relief appearances. Protecting a depleted bullpen in a blowout or a long extra-innings affair, they venture out of their comfort zone to the mound, where they try to get by -- and have a little fun -- while their world is turned upside down.
"It's a different kind of rush," said Tigers outfielder Don Kelly, who threw one-third of an inning in 2011. "It's not a position that you're used to taking. When you get out there on the mound and you start throwing, literally the [strike] zone does shrink up a ton. It's crazy."
Thrust into a situation for which they haven't trained in many years, most position players toss some form of batting-practice fastball toward the middle of the plate and hope for the best. Others surprise with legitimate heat or even a breaking ball. Some are lit up like one would expect from a relative amateur, but the vast majority manage to escape with an unblemished ERA -- and occasionally a win.
These appearances usually come on the short end of a lopsided game -- mop-up work serving as sacrifice for the greater good.
"They probably have a little fun with it," Tigers manager Jim Leyland said, "but no manager likes to do that."
But they might see some wisdom in it. Take Rays skipper Joe Maddon, who called upon outfielder Sam Fuld during an 11-2 loss to the Angels on Sept. 2, his struggling team's fifth straight defeat.
"I was looking to boost morale somehow," Maddon said after Fuld retired the only batter he faced.
Backups or part-time players get the call most often. Former big league utilityman Aaron Miles pitched five times for the Cardinals from 2007-10, the most appearances by a position player over the past 20 years. But Hall of Famers -- including Wade Boggs, Stan Musial and Ted Williams -- have taken the mound, too.
Everything about the experience can present a challenge for someone who likely hasn't unleashed a serious pitch as a professional. Fuld had most recently pitched as a high school junior in 1999, and he had to think about things as simple as where to put his foot on the rubber, or even how to come in from the bullpen.
"For the first time in my life, I was concerned about how I looked running," Fuld said. "[I had to think about] how my tempo was, what my technique looked like. [It was] completely unchartered water for me."
Most in that situation, Fuld included, describe it as fun, dire circumstances notwithstanding. Like LaRoche, they tend to embrace the challenge.
"That's the competitor in you," said Mets catcher Anthony Recker, who threw an inning against the Nationals on June 30.
Anxiety comes with the territory. After making his professional pitching debut against the Tigers on Aug. 8, Indians outfielder Ryan Raburn said he was, "about as nervous as I was for my first Major League at-bat." Dodgers utilityman Skip Schumaker, who made his third career pitching appearance on June 28, expressed disgust about delivering an up-and-in pitch, saying he was most worried about hurting someone else -- or himself.
Then there is the eye-opening novelty of glimpsing the batter-pitcher battle from the other side. That goes double for catchers, such as Miami's Jeff Mathis, who said the weirdest thing about pitching twice for the Blue Jays last year was, "seeing the game from a different angle." Recker remembers having an epiphany of sorts after falling behind his first hitter, 2-0, on what he thought were two good pitches.
"God, if the strike zone is that small, I don't know what I'm doing when I'm up there thinking that [hitting] is so hard," Recker thought to himself.
In a world of high-90s gas, bat-breaking cutters and dive-bombing sliders, most position players subscribe to the "keep it simple, stupid" philosophy. Raburn said he tried to get some quick pointers on delivering a cutter or slider, but ultimately decided, "I'd be better off just throwing it over the plate." Other than one changeup that died after about 55 feet, he threw all fastballs, reaching 88 mph.
A few position players have topped 90, including outfielder Casper Wells, who drew upon his college pitching experience while hitting 93 mph for the White Sox on June 28. While there is no PITCHf/x data to back him up, Cleveland's Jason Giambi remembers former big league outfielder Mark Whiten touching 95 in a 1998 appearance. Pitching for the Indians against Giambi's A's, Whiten became the only pitcher in history to record three strikeouts in his only career inning.
But many others offer something that strains the definition of "fastball." Rangers outfielder David Murphy hovered in the 70s when he logged an inning on June 4. That was probably for the best, considering the plight of former Texas outfielder Jose Canseco, who blew out his arm and needed Tommy John surgery after letting loose during a 1993 appearance.
"I wasn't trying to mess around," Murphy said afterward. "My arm is definitely not in condition to pitch, and I didn't want to do anything silly or anything I would have regretted. I mean, it would have been fun to throw as hard as you can and light up the radar gun, but I wasn't going to do that."
Murphy also tried a few knuckleballs, but he couldn't match the acumen of Boggs, who had always played around with a knuckler during pregame warmups, according to The New York Times. In 1997, he tossed 16 of them during a scoreless one-strikeout frame against the Angels and earned a standing ovation from the Anaheim crowd, later joking to The Times that he was, "Phil Niekro and Charlie Hough all rolled into one."
The end result of these fun experiments tends to be a zero. While the combined ERA and peripheral numbers of pitching position players aren't strong, the bottom line is this: Over the past three years, they have escaped without allowing a run in 26 of 34 appearances, including 12 of 14 this season.
There could be many reasons for this, beyond a small sample size. The stakes, at the end of a blowout, tend to be low. As Giambi said after Raburn's scoreless inning, hitters are in a no-win situation in which they have little to gain if they succeed -- it's expected -- and a lot to lose, in terms of embarrassment, if they fail.
Beyond that, they are facing an unfamiliar opponent who is throwing "under the hitting speed," in Mathis' words.
"You think it's gonna come in a lot straighter, a lot slower, and so you're just trying to tee off like it's Home Run Derby," said Recker, who remembers some unsuccessful at-bats against position players in the Minors. "That's never a good approach to hitting, no matter who you're facing."
Even with the game on the line, a position player isn't always so hittable. The Phillies' Wilson Valdez notched a scoreless 19th inning for a win over the Reds in 2011, the year before the Orioles' Chris Davis picked up a win with two scoreless frames in a 17-inning triumph during which Boston outfielder Darnell McDonald took the loss.
Then there are the results that go beyond the box score. That could be a morale boost, as Maddon hoped, or a long date with the hot and cold tubs. Mathis, for example, mostly remembers being "sore as [expletive]" after his pitching debut last year.
"Everything [hurt]," Mathis said. "Muscles that I didn't know I had."
In the end, most players say they were happy to get an opportunity to pitch and help out the bullpen, but that once probably was enough. Nobody wants to hope for another blowout. But then again, a chance could come at any time.
LaRoche is prepared, saying that he's "working on a pretty nasty little cutter," to go with his fastball, changeup and curve. The son of former All-Star pitcher Dave LaRoche jokingly compared himself to another pretty good left-hander, the Dodgers' Clayton Kershaw.
If the lobbying ever pays off, he'll be ready.
Andrew Simon is a reporter for MLB.com. Follow him on Twitter @HitTheCutoff. This story was not subject to the approval of Major League Baseball or its clubs.