Giambi compares Tribe to A's of last decade
Giambi compares Tribe to A's of last decade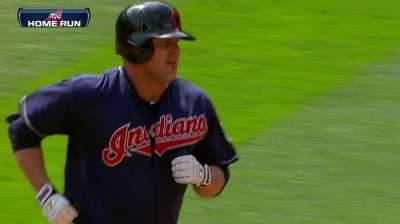 CHICAGO -- Jason Giambi has been a part of many teams that were in the position that the Indians currently find themselves in, pushing toward October with hopes of playing in the postseason.
Giambi, a 19-year veteran, said that this season's Indians remind him of some of the A's teams he played on over a decade ago.
"This team reminds me a lot of the Oakland teams," Giambi said. "Great starting pitching [and] a great bullpen. We definitely hit with more power in Oakland, but we have that team chemistry [and] guys are really tight on this team and really root for each other.
"The play of some guys on the bench, from Ryan Raburn to the rest of the guys like Mike Aviles and Yan Gomes have been unbelievable. So that's been really exciting. The team chemistry is what I think has really carried us through."
Manager Terry Francona said that having a player like Giambi, with the experience and clubhouse presence that he brings, has also been an invaluable asset for the club.
"When you have guys like 'G' around, it's a huge help," Francona said. "I've told these guys all year. I've tried to talk about him and I don't feel like I've done it justice. That's how strongly I feel about his presence."
Manny Randhawa is an associate reporter for MLB.com. This story was not subject to the approval of Major League Baseball or its clubs.