Eighth inning remains work in progress for Farrell
Eighth inning remains work in progress for Farrell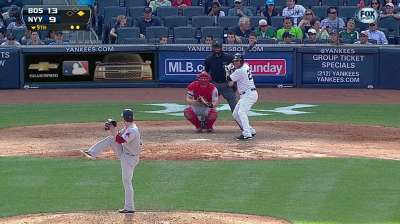 ST. PETERSBURG -- At a time of the season when nearly every area of the team is firing on all cylinders, the one thing manager John Farrell is still tinkering with is the alignment of his setup crew, particularly in the eighth inning of close games.
There have been times Farrell has gone to Junichi Tazawa, Craig Breslow and Brandon Workman. Of the three, Breslow has had the best season. But he is sometimes needed to match up against lefties earlier in the game.
"They'll all be involved," said Farrell. "On a given day, when a certain someone is well-rested, whether that's Breslow, whether that's Junichi, any one of them, we're not hesitant to go to them, as you've seen. And yet we've also taken the approach where if we're in the heart of the order, we might look to match up hitter to hitter. That pretty much covers the spectrum."
If the eighth inning is a little uncertain, the ninth is as stable as it gets. Koji Uehara continues to be unhittable in the closing role. He entered Thursday with a streak of 34 consecutive batters retired, which is believed to be a team record.
Ian Browne is a reporter for MLB.com. Read his blog, Brownie Points, and follow him on Twitter @IanMBrowne. This story was not subject to the approval of Major League Baseball or its clubs.