Despite skid, Rays in thick of playoff pursuit
Despite skid, Rays in thick of playoff pursuit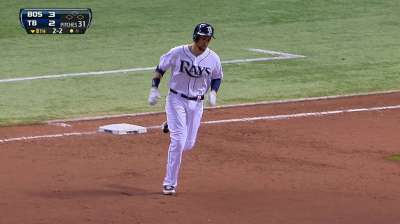 ST. PETERSBURG -- Entering Thursday night's game, there were five teams within two games of each other for the American League's final Wild Card spot.
"I thought it was going to be a dogfight all the way," Rays manager Joe Maddon said. "We had been in really good shape right up to that Angels series at home, and then we've kind of struggled a bit. However, you can look at the struggle now, but you can also look at the great body of work prior to that point that permits you to still be in great shape even though you're struggling.
"Everybody fails to point that out also. I know we've struggled recently, but we've put ourselves in good shape to hopefully work through a struggle. And that's what we plan on doing."
Through Aug. 24, the Rays were percentage points ahead of the Red Sox for first place in the AL East. Since then, Tampa Bay is a Major League-worst 4-13 while Boston has gone on a 14-3 run and held a 9 1/2-game division lead entering Thursday's game.
In the Wild Card era (since 1995), never before have five teams competing for the same Wild Card spot been this close together this late in the year.
The closest was when the Padres, Giants, Phillies, Marlins and Reds were separated by 2 1/2 games through Sept. 12, 2006. Last season through Sept. 15, five National League teams were separated by three games: the Dodgers, Cardinals, Pirates, Brewers and Phillies.
Given that the Rays' best shot to reach the postseason appears to be as the AL's Wild Card, Maddon said, "I love it right now" when asked about having a second Wild Card team in each league.
"The thing I think I've been consistent about is I liked it from the beginning from the perspective that it keeps more cities engaged, more fan bases engaged," Maddon said. "Keeps more teams engaged. The part I've always been against has been the one and done thing. I thought it should still be two out of three, but otherwise, I've always thought it was a good idea regarding including more people."
Bill Chastain is a reporter for MLB.com. Sam Strong is an associate reporter for MLB.com. This story was not subject to the approval of Major League Baseball or its clubs.