Napoli's full incentive package kicks in
Napoli's full incentive package kicks in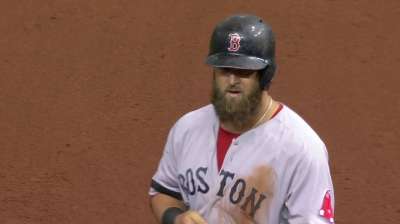 ST. PETERSBURG -- The hip condition that wound up reducing Mike Napoli's contract from three years to one year hasn't had the slightest impact on his season. In fact, simply by staying on the active roster on Thursday, Napoli's full incentive package kicked in for the season, meaning he will earn $13 million.
The Red Sox, after diagnosing Napoli with avascular necrosis with an MRI back in December, had wound up giving him just $5 million guaranteed.
However, it has wound up as a win-win situation. Napoli has been on fire of late and the Red Sox are more than happy to pay the extra $8 million for the production and durability.
"It's a good day," Napoli said, "but I've got to let that go and get back on the field and try to keep doing what I'm doing."
Not catching for the first time in Napoli's career has clearly helped. He is on pace to set career highs in games played and plate appearances.
Have a question about the Red Sox?
E-mail your query to MLB.com Red Sox beat reporter Ian Browne for possible inclusion in a future Inbox column. Letters may be edited for brevity, length and/or content.
"Yeah, I mean, that's my goal every year, to stay on the field," Napoli said. "Sometimes some things happen that you can't control and you get injured, but I think being at first base helped me out a lot with my body and how I felt. I've been confident my whole career. Some unfortunate things happened during my career. This year's been great, and my body still feels good."
Though he had a prolonged slump in July and August, Napoli has gotten red-hot at just the right time for a Boston team that has surged down the stretch.
"I think the one thing we've seen throughout the course of his career is that when we give him some periodic rest, he stays fresh and extremely productive," said manager John Farrell. "His track record shows that September has always been a strong month for him, and that's proven to be the case again."
In 141 career regular-season games in September and October, Napoli boasts a .303 average with 37 homers and 87 RBIs.
If there is a poster child for Boston's grind-it-out approach at the plate, it is Napoli.
"He embodies everything that we value as far as a hitter. I think he's first in all of baseball in pitches seen per plate appearance to total pitches seen, and he cares about what he does on the field," Farrell said. "He's very conscientious. He works his tail off. He's had probably every bit of the year that we would hope when we signed him over the offseason."
Napoli will be a free agent again this winter, but he hopes he's proved enough health-wise to garner a multiyear contract this time around with the Red Sox or somebody else.
"I mean, I hope so," Napoli said. "I'm pretty sure I'm going to have to go through the whole MRI process and do all that stuff again. But I mean, everything's looked good, and I'm confident that teams aren't going to shy away."
How about staying with Boston?
"Yeah, I'd love to stay here," Napoli said. "I love this group of guys. There's a lot of guys coming back. This is a special group. Bringing back guys like this, we're going to be able to win for a couple years."
Ian Browne is a reporter for MLB.com. Read his blog, Brownie Points, and follow him on Twitter @IanMBrowne. This story was not subject to the approval of Major League Baseball or its clubs.