Encarnacion eyes return to finish '13 strong
Encarnacion eyes return to finish '13 strong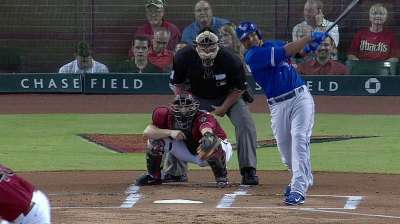 TORONTO -- With only a handful of games left, it was speculated Wednesday that Edwin Encarnacion might not play again this season. But if left up to the Blue Jays slugger, he could be back as early as Friday.
"If I'm ready tomorrow, I hope to play tomorrow or Saturday," Encarnacion said. "I'm getting better. I feel stronger with my wrist. I hit in the tee today. Feel good. We're going to see tomorrow when I hit BP and see if I'm going to be ready to play."
Encarnacion has missed the past four games with a sore left wrist, but he took hacks with a batting tee for the first time prior to Thursday's series finale with the Angels, and he appeared very pleased with the results.
"I feel a lot better," Encarnacion said. "It's progressed. That's a good thing. It feels better and better."
Part of the reason the 30-year-old is confident he will be ready to play in the next couple of days is because it is an issue that he has been playing through for much of the past couple of weeks. In fact, part of the reason he has been flinging his bat into the stands more frequently is because of the soreness in his wrist.
Prior to being shut down, Encarnacion had amassed 36 home runs, 104 RBIs, .276 average and a .375 OBP.
It marks the second consecutive season that Encarnacion has emerged as the club's best hitter, and after topping out at 42 home runs in 2012, the slugger would like a chance at reaching 40 again and finishing his season strong.
The final hurdle for Encarancion will be Friday, when he takes batting practice for the first time. Whether his wrist responds the way he hopes is still to be determined, but he would like to get out there sooner rather than later.
"I'd like to play and finish my season strong; I want to finish with my team and finish all the way through," Encarnacion said.
Evan Peaslee is an associate reporter for MLB.com. Follow him on Twitter at @EvanPeaslee. This story was not subject to the approval of Major League Baseball or its clubs.