Diamond can't find stride in return to Majors
Diamond can't find stride in return to Majors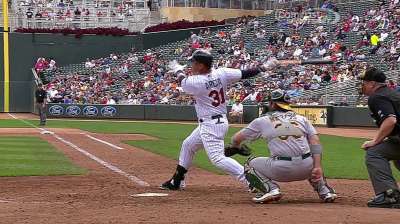 MINNEAPOLIS -- Scott Diamond is trying not to think about his September callup as an audition for next year.
But it's in the back of his mind, as he knows this season hasn't gone anything like last year, when he posted a 3.54 ERA in 27 starts as a rookie.
Unfortunately for Diamond, his first start back with the Twins didn't go as planned, as he couldn't translate his recent success at Triple-A Rochester to the Majors on Thursday, handing the Twins an 8-2 loss to the A's at Target Field.
Diamond, making his first start with the Twins since Aug. 1, lasted just 4 2/3 innings, giving up five runs (four earned) on six hits and two walks. He looked more like the pitcher who posted a 5.52 ERA in his first 20 big league starts of the season than the pitcher who had a 2.40 ERA in six outings at Triple-A after he was optioned in early August.
"I felt like I did a good job getting ahead of hitters, but I couldn't put them away," Diamond said. "That was the story of my game today. I threw close to 30 pitches in the fifth inning, because I couldn't put guys away."
Diamond added that he failed to pitch inside effectively, but said if he can fix that issue, he doesn't believe he's too far off from returning to form. So for now, he's focusing on what he needs to fix rather than on the Twins' plans for him next season.
"I still have to focus on the transition of coming back up and what made me successful here and down in Triple-A," Diamond said. "Going 4 2/3 innings is not it. I have to keep my pitch count [down] and focus on getting quick outs."
The A's jumped all over him with a four-run third inning and never looked back. Coco Crisp opened the scoring with an RBI groundout, beating out a potential inning-ending double play. Josh Donaldson followed with a walk, before Jed Lowrie scored Crisp with an RBI single to center field. Yoenis Cespedes then brought home Donaldson and Lowrie with a triple off the wall on a ball that was misplayed by center fielder Alex Presley.
"I can't deny it was a bad read," Twins manager Ron Gardenhire said. "I don't know if the ball was floating on him, but he turned the wrong way and it got all clustered out there. But it was still a rocket off the wall. Let's not forget that."
Oakland tacked on another run in the fifth on an RBI single from Donaldson. Cespedes later lined a two-out single up the middle that knocked Diamond from the game in favor of right-hander Anthony Swarzak.
Swarzak gave up a run in the sixth, keyed by a leadoff triple from Chris Young to deep right field. Josh Reddick brought home Young with a sacrifice fly to left.
The A's weren't done scoring, as they added more runs in the eighth on a two-run blast from Reddick off left-hander Brian Duensing. It was another offensive outburst from the A's, who scored 18 runs in their win over the Twins on Wednesday night.
"I thought we played well this series," A's manager Bob Melvin said. "The first game was closely contested, and one pitch ends up putting us on the other side of it. Other than that, I think we played well -- a lot of focus, good defense at times. Josh Donaldson made I don't know how many good plays today at third. Pitching pretty good, swinging the bats -- it's been a good time for us here recently."
The strong showing by the A's backed right-hander A.J. Griffin, who didn't allow a baserunner until giving up a one-out single to Josmil Pinto in the fourth inning. He went seven innings, giving up just one run on two hits and a walk with eight strikeouts.
The Twins didn't score until the seventh inning on a solo blast from rookie outfielder Oswaldo Arcia. Arcia's homer, his 12th of the year, barely cleared the fence in left field for an opposite-field shot.
Minnesota scored again in the eighth on a two-out RBI single from Presley off reliever Dan Otero. But it wasn't close to enough, as the Twins dropped two out of three in the series, getting outscored 29-9, including 26-5 over the final two games.
"They can do some things," Gardenhire said about the first-place A's. "You saw them score 26 runs the last two days. That kind of changes your mind a little bit. They're a good baseball team, and we said that coming in. They have a lot of different types of hitters, and they can run. They get after the game pretty hard, and they can play. They play well as a unit and have good pitching."
Rhett Bollinger is a reporter for MLB.com. Read his blog, Bollinger Beat, and follow him on Twitter @RhettBollinger. This story was not subject to the approval of Major League Baseball or its clubs.