Castro could be a candidate for leadoff spot
Castro could be a candidate for leadoff spot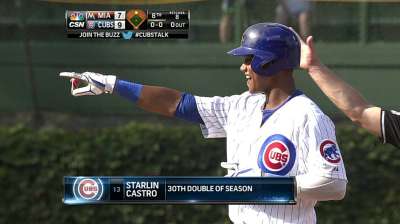 PITTSBURGH -- The Cubs miss David DeJesus, whom they traded earlier this season, at the top of the lineup. So, looking ahead to next season, who might be the Cubs' leadoff man?
It could be Starlin Castro.
"He could be that guy," manager Dale Sveum said before Castro drove in his 40th run with a single in a 3-1 loss to the Pirates on Thursday. "That's where he seems to hit the best. Look throughout all of baseball. It's not the easiest thing to find is a bonafide leadoff guy."
Castro most likely would have to bat .300 to have the on-base percentage needed to fill that spot, as he's walked only 26 times this season
"The way he's been hitting lately, I think he's learned a lot where he could hit at the top of the order," Sveum said.
This season has been a struggle for Castro, who began this year with a career .297 average, but the two-time All-Star is batting .241 with nine home runs and 30 doubles.
"Offensively, he's had his toughest year," Sveum said of the shortstop. "The adversity and how to deal with that is another learning experience in the big leagues. The one thing we know about this game is it's a humbling game and how you get through that is basically it.
"There are only a certain amount of poeple in the history of the game who have gone 18, 20 years who have had good seasons every single year. Everybody will look back and throw one year out in their career. How you handle that and come back shows character. You want to see what happens."
Carrie Muskat is a reporter for MLB.com. She writes a blog, Muskat Ramblings, and you can follow her on Twitter @CarrieMuskat. This story was not subject to the approval of Major League Baseball or its clubs.