Rusin strong, but Cubs fall in Pittsburgh
Rusin strong, but Cubs fall in Pittsburgh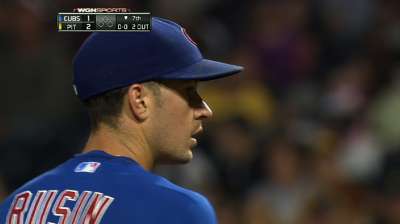 PITTSBURGH -- Chris Rusin knew he would have a tough time with the Pirates, who rank among the top teams in the National League against left-handed pitchers. The Cubs lefty held the red-hot Pirates to four hits over seven innings, but it wasn't good enough.
Marlon Byrd and Pedro Alvarez each hit RBI singles off Rusin in the fourth to spark the Pirates to their fourth straight win, a 3-1 decision over the Cubs on Thursday at PNC Park. Pittsburgh is tied for first place in the NL Central with St. Louis, which lost to Milwaukee on Thursday.
"He did a great job against a lineup that kills left-handers," Chicago manager Dale Sveum said of Rusin. "That was, to me, his most impressive outing."
All of the Pirates' hits off Rusin came in the fourth inning, and he did not walk a batter. His ERA dropped to 2.85, the lowest of any rookie left-handed starter in baseball this season. Next closest are Cincinnati's Tony Cingrani (2.92 ERA) and Los Angeles' Hyun-Jin Ryu (3.07 ERA).
The Cubs are 5-8 against the Pirates this season.
"Those guys, they're good, they're hot," Cubs catcher Welington Castillo said. "They're playing good. Those hitters are not easy to get through. ... Sometimes you don't get good results, but when you throw your best pitch with conviction, then whatever happens, you'll be happy because you threw it with conviction."
Rusin got good results.
Darnell McDonald led off the Chicago third against Jeff Locke with a ground-rule double that bounced over the center-field fence. Two outs later, he scored on Starlin Castro's single. But that was it for the Cubs' offense.
The Pirates answered in the fourth. With one out, Jordy Mercer singled for the first hit off Rusin, and reached third on Andrew McCutchen's double that bounced off the third-base bag.
"The baseball gods got me that time," Rusin said of McCutchen's hit.
Rusin got Justin Morneau to hit a comebacker and he threw home to snag Mercer for the second out. But McCutchen scored on Byrd's single to center to tie the game, and Alvarez followed with a RBI single.
The way the Pirates have been playing, you can only hope to contain them.
"For the most part, you're keeping their slugging percentage down," Sveum said. "You don't walk anybody and you've got a chance to get out of innings. You can keep the game close, and that's what we did."
The runs off Rusin were the first he's given up after 22 1/3 scoreless innings on the road, the longest streak by a Cubs rookie lefty away from home in franchise history. Rusin's streak was also the longest for a left-handed rookie on the road since Neal Heaton's 23-inning scoreless stretch for the Indians from Aug. 9-29, 1983.
While the Pirates are trying to figure out who they'll play in the postseason, the Cubs are looking ahead to next year. Will Rusin be in the 2014 rotation?
"We'll cross those bridges when we get to it," Sveum said. "He's definitely put himself in a position to have every opportunity to make the rotation."
In four starts against NL Central teams this season, Rusin has given up six runs on 21 hits and five walks in 22 2/3 innings for a 2.38 ERA.
"All that experience helps a ton," Sveum said of Rusin, who made seven starts last season and compiled a 6.37 ERA. "He got more of a taste, too, [last year] because he got some innings in and pitched against some good lineups and big league hitters. It wasn't just a quick cup of coffee and back down. He got some experience last year."
Castillo has noticed a difference, too.
"I think he's more mature this year than last year," the Cubs catcher said of the lefty. "Last year, he wanted to show everybody he could pitch here, and I think he tried to do more than he could do. This year, he looks more calm, more mature. He looks like he knows what he's doing. He does his homework with reports. I guess that's the reason why he's been good this year."
The Pirates added a run with two outs in the eighth when Clint Barmes singled off Blake Parker and scored on Mercer's double. Pittsburgh then loaded the bases, but Justin Grimm struck out Byrd.
"The left-hander Rusin was tough," Pirates manager Clint Hurdle said. "We squared up a handful of balls early, and he was mixing his pitches well, so we found a way to scratch out a couple runs there and then added a big run when Barmes and Mercer got something going there in the eighth inning and plated that third run."
This was the Pirates' first home game since winning their 82nd game of the year -- and 83rd and 84th -- which secured their first winning season since 1992. The crowd of 23,541 gave the Pirates a standing ovation when they took the field to start the game. Sveum played in Pittsburgh in 1996-97 and again in '99. He knows how tough it was.
"There's obviously a really good atmosphere here for the whole season, and you're happy for the city and the fans, because they've had to endure a lot," Sveum said. "Now they have a good enough team to get in the playoffs, and because of their pitching, they could get deep in the playoffs."
Carrie Muskat is a reporter for MLB.com. She writes a blog, Muskat Ramblings, and you can follow her on Twitter @CarrieMuskat. This story was not subject to the approval of Major League Baseball or its clubs.