Rizzo still fighting through frustrating season
Rizzo still fighting through frustrating season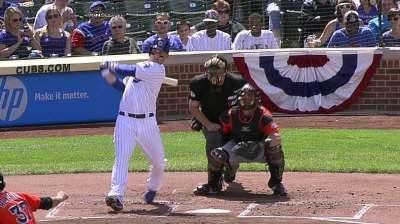 PITTSBURGH -- Anthony Rizzo does have 21 home runs and 73 RBIs this season, but the Cubs first baseman is batting only .228, and there have been longer low streaks than high ones, which is not what he expected coming into the year.
"I could say it's been frustrating," Rizzo said of his season before going 1-for-4 in Thursday's 3-1 loss to the Pirates, "but I've also hit a lot of balls hard and they just haven't found holes. That's the difference between a good season and a bad season. Whatever happens at the end of the year, I'll look back at a lot of positives. In a couple weeks, we'll be talking about the same thing and I'll assess it then."
Actually, Rizzo said he probably wouldn't answer the phone once the season ends. Cubs manager Dale Sveum called this a character building season for the young slugger.
"You don't expect people to hit .300 or hit eight or seven home runs each month," Sveum said. "A lot of people have peaks and valleys. ... That's where we are in his career in his development. [He's going through] the sophomore jinx or whatever you want to call it -- the fact of the matter is, he has 20 home runs and 70 something [RBIs]. The average isn't there or with men in scoring position. It's a learning process."
Would Sveum encourage Rizzo to spend a week in Arizona working on his hitting in the offseason?
"That's up to him," Sveum said. "He might want to get away from it. He might want a change of pace, see what he can come up with -- who knows? It might be a mental block anyway. You get mentally beat down. Sometimes you can blame it on mechanics or this and that, and it's really just your confidence level is so low, it's tough to hit in that situation."
Rizzo said his goal is to simply help the Cubs win.
"You just play baseball," Rizzo said. "It's like any other season, to be honest. We're out of it, so you have to focus on the positives and get the team together and play baseball."
Rizzo has not homered this month, but he does have 35 doubles on the season, fourth most in the National League. So there are positives.
"[The season] got out of hand and the year got away from him," Sveum said. "You say, 'I've got to grind this out and help the team win any way I can. I've got to grind and get through this and make some changes and get my confidence back and move on from there.' The adversity that comes with this game builds a lot of character. You have to wait and see if it does build character."
Carrie Muskat is a reporter for MLB.com. She writes a blog, Muskat Ramblings, and you can follow her on Twitter @CarrieMuskat. This story was not subject to the approval of Major League Baseball or its clubs.