No sweep dreams: Magic number stays at eight
No sweep dreams: Magic number stays at eight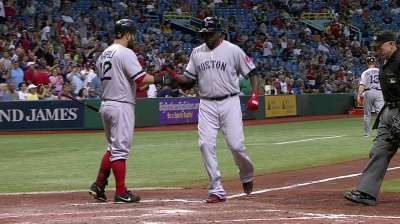 ST. PETERSBURG -- When Will Middlebrooks stepped to the plate in the top of the ninth inning on Thursday night, he absolutely flashed back to the night of May 16, when he cracked a bases-clearing double against Fernando Rodney with two outs and two strikes to give the Red Sox one of their signature comeback wins this season.
This time, Middlebrooks hit a bullet again -- but his line drive against Rodney was hit right at third baseman Evan Longoria, defusing a rally in which the Sox had two on and one out, down by just a run.
After the out by Middlebrooks, Dustin Pedroia popped to short, as the Red Sox ended a mostly successful seven-game road trip with a 4-3 loss to the Rays.
"Yeah, I did [think back to May]," said Middlebrooks. "The last couple of times I've faced him, he's thrown me all heaters. After I hit that changeup, I don't think he wanted to go back to it for some reason, even though it's a really good pitch.
"Heater up that I thought was a ball for a strike on the first pitch. I'm taking first pitch on him, because that kind of dictates what it's going to do. Then he came in with a heater, fouled it off. I was a little late on it, so I figured he would come in again. He did, and I just tried to get the head out."
Once again, the Red Sox proved they are never out of a game. Stephen Drew had some luck to start that ninth-inning rally, hitting an excuse-me single down the third-base line. Mike Carp, fresh off his game-winning grand slam on Wednesday, worked a four-pitch walk. But that was as far as the rally went.
"Well, yeah, we've been able to do it against Rodney in the past, particularly here in this ballpark," said manager John Farrell. "After the one-out walk to Carp, felt like things were starting to go our way. Thinking back to the bases-loaded double that Will had earlier in the year, we kind of envisioned something similar and he lines out straight to Longoria. We pressed him."
After a 5-2 road trip against the Yankees and Rays, the Red Sox remain in prime position to win the American League East, holding an 8 1/2-game lead with 14 games left.
"We would have signed up for it before we left Boston for sure, but we continue to play a very good brand of baseball," said Farrell. "We're executing for the most part in key moments and we come ready to get after it every single night."
Even if the Rays have all but fallen out of the division race, manager Joe Maddon predicted his team would see the Red Sox again in 2013.
"This series, this whole season, is lopsided in regards to wins and losses [against the Red Sox]," said Maddon. "But it's been a lot closer than that. We're really looking forward to playing them in the playoffs."
Thrust into a high-leverage situation for the first time this season, Rubby De La Rosa faltered.
On a night Farrell decided to rest Koji Uehara, Junichi Tazawa, Craig Breslow and Brandon Workman, De La Rosa got his chance.
The hard-throwing righty entered a 3-3 game with one out in the eighth and was greeted by a ground-rule double by Evan Longoria.
"I wanted it in the dirt," catcher Jarrod Saltalamacchia said. "Part of that is my fault, because 0-1 he made a pretty good slider, so to ask him to go out there and throw another one that good, maybe I could have went with a different pitch first and then gone back to that. Part of that is on me. We'll talk about it and get better."
Wil Myers then looped one down the line in right just fair for an RBI double that put the Rays ahead for good.
"Myers ends up getting a ball that just ends up on the chalk line for the difference in tonight's game," said Farrell. "But we had opportunities in the second and again in the ninth and we continued to grind it all the way through to the end."
Jake Peavy went six innings for Boston, giving up four hits, three runs and five walks while striking out four.
"I just didn't have great command today. The stuff was good and just didn't throw enough strikes to pitch deeper in the ballgame. Some tough breaks early," said Peavy.
The Red Sox got home runs from Saltalamacchia and David Ortiz, but it wasn't quite enough.
Ian Browne is a reporter for MLB.com. Read his blog, Brownie Points, and follow him on Twitter @IanMBrowne. This story was not subject to the approval of Major League Baseball or its clubs.