Erratic Flynn burned by walks in second career start
Erratic Flynn burned by walks in second career start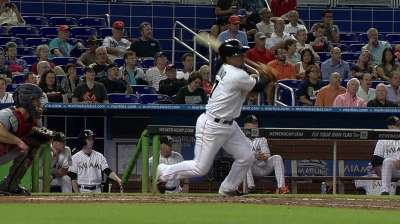 MIAMI -- At 6-foot-7, Brian Flynn is a towering figure on the mound, and he has upside.
The 23-year-old left-hander is the Marlins' ninth-ranked prospect, according to MLB.com. What he found out the hard way Thursday afternoon is that throwing strikes is imperative in the big leagues.
Flynn walked six Braves batters in four innings and allowed a two-run homer to Freddie Freeman in Miami's 6-1 loss to Atlanta at Marlins Park.
Making his second big league start, Flynn has yet to record an out in the fifth inning. He allowed three runs in four-plus innings in his big league debut on Sept. 4 against the Cubs at Wrigley Field, taking a no-decision.
Flynn has now walked nine in his first eight innings in the Majors.
"It's extremely frustrating for me, hurting yourself more than the other team is hurting you," Flynn said. "That will just grind your gears and make you lose sleep."
The six walks match a season high by a Miami pitcher this year. Jacob Turner also had six against the Royals on Aug. 14.
The Marlins turned to Flynn a day earlier than they initially planned. Nathan Eovaldi was originally scheduled to start, but he was scratched due to a tight back. Flynn had been lined up to pitch Friday against the Mets at Citi Field.
Command wasn't a major problem for Flynn when he pitched at Triple-A New Orleans this year. The lefty had a 6-11 record, but it was deceptive, as he posted a 2.80 ERA. He had 147 strikeouts and 43 walks in 161 innings between Triple-A and Double-A Jacksonville.
"It's something that has never really been a problem," Flynn said of walks. "It's one of those things where you take your team out of the ballgame real early."
Pitching coach Chuck Hernandez advised Flynn to turn the page, get ready for his Saturday bullpen session and his next start, Tuesday in Philadelphia.
"Chuck said, 'You've just got to move on from one like that. Get back in the bullpen on Saturday and iron it out before Tuesday, because that can't happen,'" Flynn said.
Did pitching a day earlier than planned alter Flynn's routine?
"It really wasn't an issue for me, because I've been well-rested since Chicago," the rookie said. "I was actually kind of eager to get back out there. I don't think that played much into it."
The Marlins have high hopes for Flynn, who will head into Spring Training next year looking to compete for a rotation spot. So this is an important month for the rookie, who joins the rotation now that Jose Fernandez has been shut down.
"You've got to be able to come up here and pound the strike zone," Miami manager Mike Redmond said. "Usually what gets young pitchers is getting behind good hitters. The strike zone is a little tighter up here, the hitters are a lot better. If you try to nibble on the corners and are not sharp, you're going to fall behind guys. The key is to get ahead and throw strikes."
Behind Freeman's homer, and two-run doubles from Evan Gattis and Chris Johnson in a four-run third inning, the Braves breezed to a series victory. Atlanta took three of four this week and eight of 10 at Marlins Park this year.
Thursday's disappointing loss came the afternoon after a highly energized 5-1 win Wednesday night in Fernandez's final start.
"After an emotional night like last night, we needed somebody to go out there and pound the strike zone, and put up some zeros," Redmond said. "That just didn't happen today."
Freddy Garcia limited the Marlins to one run on five hits over six innings, collecting the win.
The Braves capitalized on Flynn's wildness with four runs in the third. Three straight walks to open the inning put the lefty in a jam before Gattis and Johnson delivered doubles on consecutive pitches.
"The patience came from Justin [Upton]," Freeman said of Atlanta's two-hole hitter, who walked three times and scored twice. "He seemed to be getting everything going for us."
Miami countered with its lone run off Garcia in the bottom of the frame on Donovan Solano's RBI single, which scored Rob Brantly, who led off the inning with a single.
Atlanta padded its lead in the fourth on Freeman's two-run blast. A two-out walk to Upton set up Freeman's 20th shot of the season.
"I went out there and actually attacked the zone to start that one off, especially after we scored a run," Flynn said. "Shut-down innings, obviously, are a huge part of baseball. You've got to be able to do that, especially a young guy coming in here trying to make an impression. You want to keep your team in games. Shut-down innings are a big way to do that."
Joe Frisaro is a reporter for MLB.com. He writes a blog, called The Fish Pond. Follow him on Twitter @JoeFrisaro. This story was not subject to the approval of Major League Baseball or its clubs.