Braves end trip still on top of NL with win against Fish
Braves end trip still on top of NL with win against Fish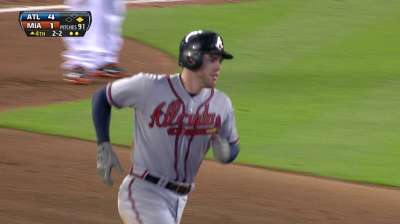 MIAMI -- After being silenced by Cliff Lee, Cole Hamels and Jose Fernandez during this seven-game road trip, the Braves had some fun at Brian Flynn's expense before heading home with the satisfaction of moving another step closer to celebrating their first division championship since 2005.
When the Braves arrived in Miami on Monday, they were in the midst of a four-game losing streak and dealing with the sour taste that had developed while they were being swept by the Phillies this past weekend. They halted their woes with consecutive wins against the Marlins, but were further frustrated by Fernandez's excellence and antics in Wednesday night's heated loss.
But everything seemed to be right again as the Braves concluded this trip with Thursday afternoon's 6-1 win against the Marlins. Freddy Garcia proved he still has the potential to be an effective starter at the big league level, and Freddie Freeman celebrated his 24th birthday by securing his third consecutive 20-homer season.
"You've got to battle every day," Freeman said. "It's September and everybody is tired, but we're going out there and playing hard still. We went out there today and faced a guy we'd never seen before. We were able to put some things together and that's a good sign for us."
Despite losing four of seven on this trip, the Braves return to Atlanta with their magic number to clinch the National League East at six. More importantly, they still own the NL's best record and are in position to have home-field advantage leading up to the World Series.
While there is a chance the Braves could clinch at home during this weekend's three-game series against the Padres, it seems more likely they will celebrate at some point during next week's three-game set against the second-place Nationals in Washington.
"We want to win the next three at home and then go into Washington and have some fun there," said Freeman, who needs to drive in two more runs to notch his first 100-RBI season.
Freeman's two-run home run in the fourth inning added to the miseries experienced by Flynn, whose second career start was also marred in the third inning by consecutive two-run doubles recorded by Evan Gattis and Chris Johnson, whose three-hit performance improved his batting average .330, keeping him within striking distance of Michael Cuddyer's NL-leading mark (.334).
The offensive contributions were more than enough for Garcia, who allowed one run and completed six innings in his first Major League start since the Orioles designated him for assignment in June. This was just the kind of contribution the Braves envisioned from the seasoned veteran when they claimed him off waivers three weeks ago with the belief he would provide bullpen depth and the ability to make spot starts.
Garcia's assignment in this series finale was created when the Braves opted to skip Alex Wood's turn with the hope that a few extra days of rest will energize the rookie as he nears the end of his first big league season and prepares for the postseason.
Since joining the Atlanta roster on Sept. 1, Garcia has made three relief appearances and one start. The only run he has surrendered in 13 2/3 innings was Freddy Galvis' walk-off home run in Saturday's loss to the Phillies.
"He knows how to maneuver himself through a Major League lineup," Braves manager Fredi Gonzalez said. "He puts a little on and takes a little off. He doesn't give you the same look."
Once Garcia exited, the Braves gained another encouraging pitching-related development courtesy of Jordan Walden, who tossed a scoreless seventh inning in what was his first appearance since straining his groin in St. Louis three weeks ago.
"That's a big piece we haven't had in 19 days," Gonzalez said. "That will take some of the burden off some of the other guys we've been using a lot."
Flynn escaped unscathed after allowing the Braves to put two on with less than two out in each of the first two innings. But the 23-year-old left-hander's good fortune evaporated after he issued three consecutive walks to begin the third. This set the stage for Gattis and Johnson to follow with their two-run doubles, which were tallied on consecutive pitches.
Freeman's two-run shot served as the first home run he has hit on his birthday at the big league level. It also gave the 24-year-old first baseman the opportunity to continue razzing good friend Chipper Jones about the possibility of matching the 14 consecutive 20-homer seasons Jones produced.
"That's three down and 11 more to go," Freeman said. "I don't really set personal goals or anything like that, but I guess I can send him a text message."
Mark Bowman is a reporter for MLB.com. This story was not subject to the approval of Major League Baseball or its clubs.