In career year, Lowrie gives A's consistency, versatility
In career year, Lowrie gives A's consistency, versatility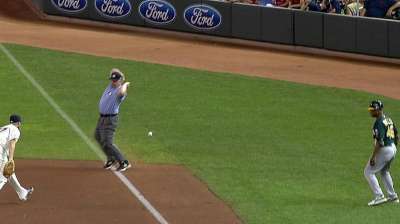 MINNEAPOLIS -- Jed Lowrie hasn't needed much help hitting doubles this season, although it took an umpire conference on Wednesday night to verify his 43rd two-bagger of the year.
Lowrie's doubles mark ranks second in the American League entering play Thursday, and he leads the AL with 20 doubles since the All-Star break. He almost missed out on his latest, however, after first-base umpire Bill Miller called his line drive a foul ball in the fourth inning of Wednesday's 18-3 win at Target Field.
Miller had to leap out of the way of Lowrie's smash, and because he didn't get a good look at it, he asked for help from the rest of the crew. There was also visual evidence that it was fair.
"There was a ball mark on the line, and I think that's why they got together, because Bill realized it was a fair ball," Lowrie said.
Lowrie was awarded a double, and Twins manager Ron Gardenhire was ejected arguing the ruling, but Lowrie disputes the notion that the double should be considered "disputed." In his mind, the ball was a hit, and what matters is the umpires showing a willingness to deliberate and get it right.
"My initial reaction was that I couldn't believe he called it foul," said Lowrie, who argued briefly before A's manager Bob Melvin took up the cause. "I also understand that his reaction is to get out of the way of a ball like that, and he's just making his best guess. It's just an impossible call. So after my initial reaction, all I can do is wait to see if they're going to get together and change their mind."
In the midst of a career season after arriving in a trade with Houston in the offseason, the 29-year-old shortstop has already topped his career-best RBI mark with 66. He entered Thursday's game hitting .287 and has been a fixture for the A's after not having played more than 97 games in a season before 2013.
"I think I've had a pretty consistent approach all year," Lowrie said. "I've had a few ups and downs, but have been pretty consistent all year. I've been in a good routine and been getting results this year."
Melvin said he appreciates the flexibility provided by Lowrie, who has hit mostly second or third in the order, but has started at least one game in each of the top seven spots in the batting order.
"He's probably the most versatile guy in our lineup with where you can hit him," Melvin said. "He understands the approach in any particular spot, so wherever I hit him, I know I'm going to get a guy in that spot that has an understanding of how to do it."
Patrick Donnelly is a contributor to MLB.com. This story was not subject to the approval of Major League Baseball or its clubs.