Homers haunt Harang as Nats sweep Mets
Homers haunt Harang as Nats sweep Mets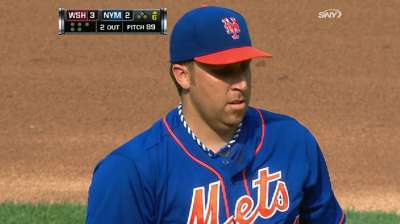 NEW YORK -- The Mets find themselves in an interesting place down the stretch this September, at a time when most non-contending teams are evaluating for the future. New York is, too, to a certain extent. But injuries have prevented the Mets from doing so with any sort of consistency.
And so they plod along, winning and losing with a motley crew. Thursday's 7-2 loss to the Nationals came courtesy of Aaron Harang -- a spot starter who actually performed quite well under the circumstances -- and a lineup that continues to struggle at the plate.
"You look at their team, they're playing so relaxed because they're established players who have killed it in the past and are all having pretty good years," third baseman Josh Satin said of the Nationals. "Our guys are all fighting just to stay here."
In his first appearance since the Mets signed him off the free-agent scrap heap, Harang served up solo homers to Ryan Zimmerman, Adam LaRoche and Wilson Ramos, putting him on the hook for a loss. But Harang also struck out 10 and allowed just one other hit in six innings -- a better performance than the Mets could have envisioned from a pitcher who, earlier this summer, posted a 5.76 ERA in 22 starts with the Mariners.
"I'm just looking to … show that I still have what it takes to get people out at this level," Harang said.
He did so Thursday, and still it was not enough. Facing rookie Tanner Roark, the Mets scratched out single runs on Daniel Murphy's double in the first inning and Anthony Recker's single in the fourth. Roark needed just 78 pitches to complete six innings.
After he departed, the Nationals ensured him a victory by touching Frank Francisco for two insurance runs in the eighth. In the middle of that rally, Francisco hit Jayson Werth with a pitch -- a play that drew Werth's ire, despite Francisco's protestations that it was unintentional.
All the while, in the home dugout, manager Terry Collins evaluated. Though it is clear at this point that Collins will be back next season barring something unforeseen, a significant portion of his roster may not. Five of the six pitchers the Mets used, for example, will be free agents in November, and it would not be surprising to see the whole quintet land elsewhere. Though none of New York's eight starting position players are up for free agency, that does not guarantee them places on the roster.
With just $25 million committed to their payroll next season, the Mets theoretically have tens of millions at their disposal to spend this winter on pricier, sexier free agents. That makes several of their current players expendable.
The Mets are also proceeding without injured players David Wright, Matt Harvey, Ike Davis, Jenrry Mejia and Bobby Parnell, all of whom figure to factor heavily into the future equation. Wright is the only one of that group not done for the year.
It means the Mets can only evaluate with so much accuracy, knowing many of the players they are judging may soon be gone. One of Collins' favored axioms is to not trust what he sees in March and September, considering baseball's expanded roster sizes and, in some cases, watered-down quality of competition. When Davis suffered his season-ending oblique strain last month, for instance, general manager Sandy Alderson said the Mets had already evaluated their first baseman as much as possible, anyway.
"It makes it very hard," Collins said, referring to his team's rash of injuries. "You would think some of these guys would grab the opportunity that's in front of them. And we're not seeing it right now."
With that in the back of his mind, Collins said he planned to address his players for the second time this week. The Mets have lost four in a row, six of their past seven and nine of 11. Though not upset with the Mets' physical effort, Collins is nonetheless displeased with the results.
Collins knows that the games must go on, with four more against the Marlins this weekend and 17 more this season. And so the Mets will continue watching and evaluating -- win after win, loss after loss.
"It's definitely a weird thing, because you're playing to impress everyone," Satin said. "You want people to think that you can play at this level, that you can be a part of this team's future. And you don't know how many opportunities you're going to have to show them."
Anthony DiComo is a reporter for MLB.com. Follow him on Twitter @AnthonyDicomo. This story was not subject to the approval of Major League Baseball or its clubs.