Maholm receives more encouraging news than Beachy
Maholm receives more encouraging news than Beachy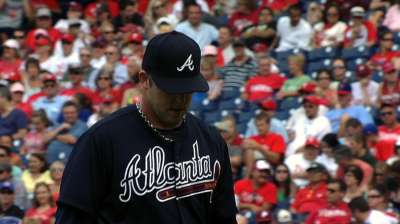 MIAMI -- While there is a chance Paul Maholm could soon return to Atlanta's rotation, it appears Brandon Beachy's hopes of pitching again this year are quickly fading.
The Braves received encouraging news Wednesday, when a contrast MRI exam showed no structural damage in Maholm's left elbow. Braves manager Fredi Gonzalez said the results were encouraging enough to believe Maholm could make his next start at some point next week.
Maholm felt some elbow discomfort during his Sept. 2 start against the Mets and again this past Sunday, when he limited the Phillies to two runs in a six-inning effort that took 108 pitches.
Like Maholm, Beachy was encouraged when an MRI exam performed by Dr. James Andrews two weeks ago showed his right elbow discomfort was simply a product of inflammation and not the kind of structural damage that would force him to undergo a second Tommy John surgery in a span of 15 months.
Still, there was not much reason to believe Beachy would have time to make more than a couple of starts or appearances out of the bullpen before the season concluded. But as his right elbow continued to provide discomfort while he has simply played catch the past couple of weeks, it seems it will be in Beachy's best interest to wait until next year to begin pitching again.
"I'm frustrated," Beachy said. "I'm not where I want to be."
Beachy began battling inflammation just before he was initially expected to make his return from Tommy John surgery in June. After returning to Atlanta's rotation in late July, he made five starts before experiencing a sudden decline in velocity during an Aug. 20 start against the Mets. It prompted his visit to Andrews and to learn he was once again dealing with inflammation.
Maholm's absence has created the opportunity for suburban Atlanta native David Hale to make his Major League debut when he starts against the Padres on Friday night at Turner Field. This has been a memorable week for Hale, who got his first call to the big leagues late last week. The 26-year-old right-hander posted a 3.17 ERA in 20 starts with Triple-A Gwinnett this year.
Mark Bowman is a reporter for MLB.com. This story was not subject to the approval of Major League Baseball or its clubs.