Players master approaches to two-strike hitting
Players master approaches to two-strike hitting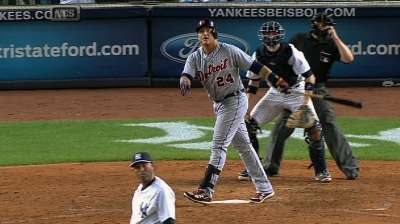 It was little more than a month ago that Miguel Cabrera delivered one of the season's most memorable at-bats, and along with it, he gave us a glimpse into one of the many tools that has turned him into arguably the game's most dangerous hitter.
Facing all-time saves leader Mariano Rivera with two outs in the ninth inning and the tying runner on second base at Yankee Stadium, Cabrera fouled a pair of two-strike pitches off his left knee before connecting two pitches later on a game-tying home run and hobbling around the bases. While fans -- and Rivera -- marveled at Cabrera's ability to still drive the ball 410-plus feet despite the pain in his knee, it was what Cabrera did on the four pitches prior to the home run that ultimately made the improbable homer possible.
After falling behind in the count, 0-2, Cabrera took a high pitch for ball one. He then stayed alive by fouling the next two pitches off his knee, and he took another pitch outside of the zone before jumping all over a Rivera fastball that caught just enough of the plate for Cabrera's liking.
It's that ability to come through with two strikes that has, in part, elevated Cabrera's game to another level in recent seasons. In his first seven big league seasons, Cabrera posted a collective .675 OPS when hitting with two strikes. Over the past four seasons, however, the defending American League Triple Crown winner has a .769 OPS with two strikes, including a career-best .796 mark this season.
"You want to grind out the at-bat and try to make something happen," Cabrera said of his two-strike approach. "You want to keep fighting, keep fighting and wait for a mistake."
Cabrera has worked opposing pitchers into a number of mistakes this season, matching a career high with 13 home runs with two strikes. While he's made the most of his two-strike approach, other players have proven that other strategies can also lead to success when a hitter is down to his final strike.
Whereas Cabrera tries to spoil as many borderline pitches as he can while waiting for one he can drive, White Sox utilityman Jeff Keppinger has made a career out of rarely striking out due to his ability to simply put the ball in play.
"For me, it's all about giving yourself a chance," said Keppinger, whose strikeout rate of 6.8 percent since joining the Majors in 2004 is the third best for any player during that span. "I don't want to go back to the dugout after taking a pitch and putting [the call] in someone else's hands. So I just widen my zone, and if I can reach the ball with my bat, I'm swinging at it and hoping it finds a hole somewhere."
Regardless of the physical approach of each individual batter, most successful two-strike hitters will admit the mental approach to those situations is just as important.
"Nobody wants to strike out, it feels like a wasted at-bat," Keppinger said. "But at the same time, you can't go up to the plate thinking about it, and you can't let that get you off your game once you do get to two strikes. You've still got another pitch to work with, and you need to be focused on that pitch, not the two you've already missed."
However, not all hitters go with the fundamental approach of vastly extending the zone and swinging at anything they can get their bat on.
Few players this season have had as much success hitting with two strikes as Cardinals second baseman Matt Carpenter. In just his third season in the big leagues, Carpenter is hitting .285 with 24 doubles, two triples and seven home runs after being down to his final strike. Though he adapts his swing to the situation, Carpenter still works the count and, similar to Cabrera, waits for a hittable pitch that he can turn into a solid base hit.
Fellow second baseman Dustin Pedroia has the second-most two-strike hits since breaking into the big leagues in 2007. His 488 hits when staring down a two-strike count are just one shy of Ichiro Suzuki's MLB-leading total in those situations.
This season, Pedroia has hit exceptionally well in that area, posting a two-strike batting average just 18 points lower than his overall mark. The Red Sox second baseman, batting .298 overall, still hits at a .280 clip with two strikes.
"There's a reason you get three strikes up there instead of two," Pedroia said. "You need to make the most of every pitch in an at-bat, and that's all I'm trying to do, whether it's the first pitch of an AB or the 10th."
Just as each hitter has his own swing and approach at the plate, he also has his own unique perspective when approaching his final strike. Along with repeatedly emphasizing the importance of the mental aspect, some of the game's most successful two-strike hitters seemed to agree on another point as well -- the pressure is still on the pitcher.
"A pitcher doesn't have anything to show for getting two strikes," Keppinger said. "If he makes a mistake on that next pitch or tries to do too much with an out pitch, he's still going to end up serving up a walk or a hit, and nobody's even going to remember that he had two strikes on you."
For someone such as Pedroia, it's simply all about making the opposing pitcher work every bit as hard for strike three as he did for strikes one and two. After all, a hitter's ultimate goal never changes -- even when he's down to that daunting final strike.
"Just like always, it comes down to battling," Pedroia said. "If you've got two strikes, [the pitcher] is battling to finish you off and you're still battling to get on base. It's just a matter of who's going to win that battle and come out on top."
Paul Casella is a reporter for MLB.com. Follow him on Twitter @paul_casella. This story was not subject to the approval of Major League Baseball or its clubs.