Ryu scuffles as LA's magic number holds at six
Ryu scuffles as LA's magic number holds at six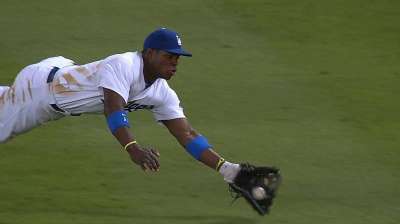 LOS ANGELES -- The Dodgers and Hyun-Jin Ryu lost to the D-backs on Wednesday night, 4-1, their chances of clinching the division are still odds-on, even if the odds of doing it by Sunday's homestand finale just got longer.
Whenever the champagne corks pop, work remains to be done if the team and the rookie lefty are to succeed in the postseason.
Until Yasiel Puig's one-out homer in the seventh inning, the Dodgers were effectively contained by Arizona starter Patrick Corbin (14-6). Against the lefty, Dodgers manager Don Mattingly rested regulars Andre Ethier, Carl Crawford, Juan Uribe and Mark Ellis. The makeshift lineup went 0-for-6 with runners in scoring position.
For nearly two months, the Dodgers played .800 ball. While that breakneck pace was impossible to maintain, they have lost five of their last seven and are only 9-8 since Aug. 23. But their lead over Arizona is still a comfy 12 games with 17 to play, their magic number stuck at six.
"First and foremost, you want to win the division, and after that, you want to still be playing competitive baseball," said Nick Punto, a World Series winner with St. Louis who kept the game close with three slick fielding plays at second base.
"We need to continue playing well and not hit a flat spot. It is unfair to compare [to the 42-10 run]. We just won two of three and won the series, that's the way I look at it."
Mattingly shrugged off a question about the Dodgers missing a chance to pick up a game on Atlanta for the best record in the league and home-field advantage.
"I'm not paying attention to Atlanta," he said. "I'm just trying to win a game and take care of our business."
Ryu, meanwhile, hasn't looked like the Rookie of the Year candidate of the first 4 1/2 months. He said he wasn't bothered by the stiff back that caused him to miss a start last week. So, pitching on 10 days' rest, he kept the D-backs in the park but not off the bases. He allowed 10 hits in six innings. Paul Goldschmidt led Arizona with four hits.
"If there is one good takeaway from today's game," said Ryu, "it's that at least the injury is gone. If you analyze the first couple innings, the Arizona hitters all got hits with two strikes. I think they just did a good job waiting for the offspeed pitches."
While Ricky Nolasco has become a wins machine and seemingly the No. 3 starter in a short playoff series, Ryu has lost three of his last four starts, his record now 13-6 with a 3.07 ERA.
"We haven't gotten there yet, so there's no reason to talk about any of that," Mattingly said when asked about the postseason rotation.
Ryu said he prefers to keep his regular routine through September without any extra rest, but wouldn't get drawn into the postseason debate.
"I'm just trying my best and letting the pieces fall where they may," he said. "We're just trying to win as a team."
Ryu didn't walk any, struck out a season-low one batter and didn't have his best fastball velocity. Three defensive gems by Punto, and a diving catch from Puig in right field kept the score close.
Ryu dug himself a quick hole by allowing singles to the first three D-backs, Goldschmidt's single driving in the first run and the second scoring on Martin Prado's double-play grounder. Arizona scored again in the second inning on doubles by Gerardo Parra and No. 8 hitter Tuffy Gosewisch.
"He was OK, really," Mattingly said of Ryu. "He did what Hyun-Jin does. He gave up a couple early and hung in there and gave us a chance to get back in the game. For not pitching 10 days, he was fairly sharp. He looked pretty good."
Catcher A.J. Ellis seconded Mattingly's review of Ryu.
"The more you get looks at the same guy throughout the course of a season, you get more of a game plan against," Ellis said. "There's a lot more video out on him, a lot more scouting. It's up to us to execute and make pitches. I think he's fine. When it's been a big game and a chance for him to put on a show out there, he's risen to the occasion. I know as we get closer and closer to the end of the month and he gets more comfortable from this layoff, I expect him to get back to that early to mid-season form he was in."
The bullpen took over for the seventh and the D-backs tacked on a run. Brandon League loaded the bases with one out and Brian Wilson took over. Wilson, who was ill and unavailable Tuesday night, allowed an RBI single to Goldschmidt before Prado grounded into a double-play.
Puig finally ruined Corbin's shutout, and ended Corbin's outing, with a long home run deep into the Dodgers bullpen, his 16th in 87 games.
"Just a hanging breaking ball," said Corbin. "I threw him one 0-1, he laid off it, I tried to throw another one and just left it up a little bit."
Ken Gurnick is a reporter for MLB.com. This story was not subject to the approval of Major League Baseball or its clubs.