Braves scuffle vs. Fernandez on frustrating night
Braves scuffle vs. Fernandez on frustrating night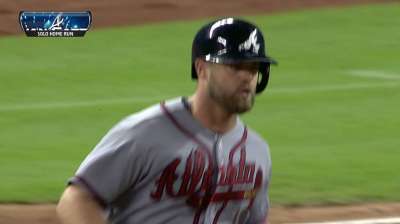 MIAMI -- Jose Fernandez enriched the baseball world with the youthful energy he displayed as he produced one of the best seasons for a rookie pitcher in Major League history. But it is safe to say the Braves are not fans of his theatrical antics, which can prove to be antagonizing in the heat of a battle.
A somber mood filled both clubhouses after the Marlins claimed a 5-2 win at Marlins Park on Wednesday night. The Braves lost an opportunity to move closer to clinching the National League East, and Fernandez denied himself the chance to celebrate what should have been a memorable conclusion to his stellar season.
"This is a professional game,and we should be professional players," Fernandez said. "I think that never should happen. I'm embarrassed, and hopefully that will never happen again."
These are not the words that should be uttered from a guy who had just allowed one run over seven innings and added to the wonder of his performance with his first career home run. But his decision to stand at the plate and admire his sixth-inning solo shot off Mike Minor led both benches to empty and express the emotions that had truly started to boil in the top half of the inning, when Evan Gattis admired his solo homer.
"He took exception to Gattis' home run," Braves catcher Brian McCann said. "You could tell that walking off the field. He happened to hit a home run and stood there. I just told him you can't do that. You can get someone hurt. It was just something that didn't need to happen."
As they attempt to maintain the NL's best record and whittle their magic number (seven) to clinch the division, the Braves certainly did not want to risk a player getting injured in a melee. But once Fernandez admired his homer, McCann had no other choice but to confront the young pitcher he met when they played together in July's All-Star Game.
Though he was simply attempting to deliver a message with a controlled tone, McCann was not surprised when this led to both benches and bullpens emptying. Nothing more than words were exchanged, including some heated ones from third baseman Chris Johnson.
After Gattis opened the sixth with his third homer in the past four games, Johnson was robbed of a potential extra-base hit and then seemed to mouth something about Fernandez's fastball. But Johnson said his emotions were truly ignited when Fernandez spit on the ground as he rounded third base.
"That's when I got angry personally," Johnson said. "I know Justin [Upton] crushed a ball and it got caught. [Fernandez] was watching him go back to the dugout smiling and stuff like that. I think that was why Gattis was a little upset."
Knowing that the Marlins were going to shut him down after this start, Fernandez was fueled with a little extra adrenaline. This did not prevent him from producing this strong effort that lowered his ERA to 2.19 ERA -- the fourth-best mark recorded by a rookie pitcher in the live ball era, which dates back to 1920.
"The kid is a good pitcher," Johnson said. "He's got some other stuff going on too that upsets people sometimes."
With this incident behind them, the Braves will now focus on more important issues. As things currently stand, Minor would be the most likely candidate to start the first game of a playoff series. But while allowing the Marlins five runs (four earned) and 11 hits in six innings, the southpaw was certainly not in postseason form.
Minor surrendered an unearned run in the first inning courtesy of second baseman Elliot Johnson's throwing error and another via the consecutive one-out hits he allowed in the fourth. But the crushing blow came in the fifth inning when Giancarlo Stanton powered an outside curveball deep over the center-field wall at this cavernous park for a two-run home run.
This marked the fifth time in his past 13 starts that Minor has allowed at least four earned runs. The Marlins served as the opposition on four of those occasions.
"I can't change anything," Minor said. "It was just one of those games. I feel like the Marlins have always had a good approach against me anyways."
The Braves have been limited to two runs or fewer four times while winning just two of their past seven games. Facing Fernandez was certainly not a recipe to break out of an offensive funk that has been brewing since Jason Heyward fractured his jaw on Aug. 21.
As the emotions boiled in the sixth inning, it was apparent that this was not the night in which they wanted to be further frustrated by Fernandez's antics.
"It's probably immaturity," Braves manager Fredi Gonzalez said. "He's a playful guy on the mound. He likes to have fun. We like to have fun, too. If he's going to play that playfulness game, then he shouldn't get upset when we hit a home run and have fun ourselves. It's boys being boys after that."
Mark Bowman is a reporter for MLB.com. This story was not subject to the approval of Major League Baseball or its clubs.