Medica homers vs. veteran Lee in MLB debut
Medica homers vs. veteran Lee in MLB debut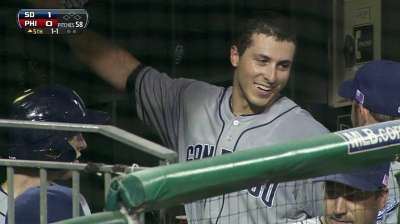 PHILADELPHIA -- They circled around a laptop in the home clubhouse of Wolff Stadium in San Antonio on Wednesday, leaning in as close as they could to get a peek at Tommy Medica's first Major League at-bat.
Three days ago, Medica was still a member of the San Antonio Missions, the Padres' Double-A affiliate. On Wednesday night, he was digging in against the Phillies' Cliff Lee, who has a history of carving up hitters, regardless of shape, skill or service time.
Medica struck out in his first at-bat, but three innings later, while his teammates were out playing in the Texas League championship series, he hit a home run to left-center field, one of the bright spots in the Padres' 4-2 loss to the Phillies before a crowd of 30,351 at Citizens Bank Park.
"I wish they'd seen my second one," Medica said, smiling.
The Padres, who were officially eliminated from the National League West race with the loss, got home runs from Medica -- who was added to the roster Tuesday -- and Jedd Gyorko and an improved effort from left-hander Eric Stults, though it wasn't enough.
Lee, of course, had plenty to do with that.
"Cliff was outstanding. He battled. He really went to his changeup tonight," said Phillies interim manager Ryne Sandberg. "Some nights he'll throw more curveballs with his cutter and fastball. Some nights he'll throw changeups. He had the feel for the changeup tonight. That was his pitch."
Lee, who is making $25 million this season, allowed the two home runs but little else, yielding five hits with one walk and nine strikeouts over eight innings. Lee improved to 13-6 with the victory.
"Tonight, more than I've seen in the past, I saw a lot of changeups. He was very effective, he spotted the fastball, cutter. But the change, for me, stood out," said Padres manager Bud Black. "If you sit back against Cliff Lee, he's going to cut you up. If you wait for him to make a mistake ... he's not going to make them."
Lee's left-handed counterpart, Stults, had plenty of success as well, leaning more on his fastball-changeup combination and less on his curveball. He allowed two runs on six hits with five strikeouts in six innings.
Two of the hits he allowed, though, were home runs. Freddy Galvis hit one into the left-field seats with one out in the fifth inning. Then in the sixth, Jimmy Rollins took Stults deep to left-center field. Each time, those home runs erased tenuous leads by the Padres (66-78).
"I gave us a chance to win ... that was big for me. The last two starts haven't gone so well," Stults said.
In his last outing, against the Giants, Stults surrendered a season-high three home runs. All told, he yielded seven earned runs in 4 2/3 innings in that start.
The fastball-changeup combination carried Stults far against the Phillies, though he did sprinkle in a few curveballs.
"Tonight, it felt the best it's felt in a while," Stults said. "And other than my last inning, my fastball was down in the zone."
Speaking of fastballs down in the zone, that's precisely what Medica got in his first at-bat against Lee, one that went for a called third strike. Medica wasn't about to quibble about it afterwards, either.
"A rookie versus a veteran ... it was a good pitch, there was nothing I could do about it," Medica said.
That wasn't the case in the fifth inning, when Medica jumped on a 1-0 fastball, driving it to deep left-center as the center fielder, Cesar Hernandez, kept drifting back.
"The center fielder got to the wall and it fooled me a little," said Medica, who hit 20 home runs in the Minor Leagues this season, most as the first baseman with San Antonio.
"It's definitely a cool thing. You see guys on TV get their first hit and it seems like a lot of them hit home runs."
Medica's first big league game tested him in other ways besides facing Lee.
With the score tied in the seventh, the Phillies (67-78) had runners on second and third base with one out after a Lee sacrifice bunt. The Padres had the infield pulled in with Hernandez facing relief pitcher Nick Vincent (4-3).
Hernandez topped a ball toward Medica at first base. But Galvis, who runs well, broke on contact and by the time the ball got to Medica, his only real play was to first base as the go-ahead run scored.
"We have the infield in, Galvis is a good runner and our infield is in to cut the run off," Black said. "It just wasn't hit hard enough. He topped it and Galvis got a great break. It would have been a bang-bang play. That's a tough one."
Corey Brock is a reporter for MLB.com. Keep track of @FollowThePadres on Twitter. This story was not subject to the approval of Major League Baseball or its clubs.