Rays honor those who perished on 9/11
Rays honor those who perished on 9/11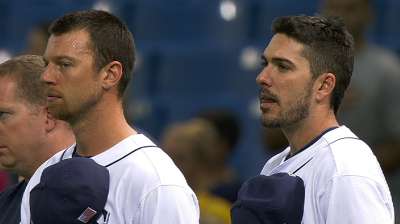 ST. PETERSBURG -- The Rays and Red Sox joined the rest of Major League Baseball by paying tribute to those who lost their lives during the Sept. 11, 2001, terrorist attacks prior to Wednesday night's game.
Along with the umpiring crew, both teams wore hats with an American flag embroidered on the side. The "We Shall Not Forget" MLB silhouetted batter ribbon was displayed at Tropicana Field, where "9.11.01" was engraved in the back of the pitcher's mound, and a moment of silence was held prior to first pitch. Also, a caravan containing a fire truck, police car and ambulance paraded around the ballpark.
Andrew Harriman, representing the Wounded Warrior Project, threw out the first pitch.
Harriman, who hails from Largo, Fla., worked as an emergency medical technician before joining the Army and entering Iraq in 2006, where he was shot multiple times in the left leg. He has since returned to complete paramedic school and plans on enrolling in medical school.
As he is every year, manager Joe Maddon was reminded of his college fraternity brother, Neil Levin, the head of the New York Port Authority who was killed in the attacks.
"I'm thinking, 'Neil is pretty cool. He's the boss. He's going to show up late,'" Maddon said. "As it turns out, he was having breakfast that morning in the restaurant on the top floor, so we lost Neil on that particular day. Everyone has a connection to it. That's mine.
"I had talked to him in the middle of August for the first time in about 25 years. We reconnected. He was remarried. He had stepkids. We talked about him coming to see us against the Yankees and it never happened. Whenever I hear 9/11, riding my bike today with the flag at half mast, I thought of Neil."
Bill Chastain is a reporter for MLB.com. Sam Strong is an associate reporter for MLB.com. This story was not subject to the approval of Major League Baseball or its clubs.