Corbin gives D-backs a W on way out of LA
Corbin gives D-backs a W on way out of LA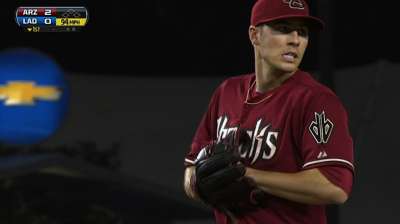 LOS ANGELES -- So much for Patrick Corbin being tired.
The left-hander put together his second consecutive strong outing as the D-backs beat the Dodgers, 4-1, on Wednesday night to avoid a sweep in the three-game series at Dodger Stadium. Arizona remains alive in the postseason race with an elimination number of six.
After Corbin (14-6) had back-to-back poor starts at the end of August, there was speculation that he was fatigued after a long season.
For his part, Corbin said he's always felt fine, but that he just missed location with his pitches during those two starts.
"I mean, just a couple of bad outings," Corbin said. "I don't think there was a need to panic or anything. I know it's really my first full season up here and my innings are adding up, but my body feels healthy. I feel fine and I just want to see how it is to go a full season, get as many innings as I can and try to build off it for next year and throw more."
His last time out, Corbin allowed just three runs in a complete-game loss against the Giants on Friday and followed that up by allowing just one run against the National League West leaders.
It was not necessarily a thing of beauty, as the Dodgers managed 10 baserunners off him -- eight hits and pair of walks -- in his 6 1/3 innings, but he limited the damage against a tough-hitting team.
"Not a game that I want continue to pitch like, getting guys on every inning," Corbin said. "It seemed out of the windup I was leaving some pitches up and they got some guys on but I was able to make some pitches out of the stretch and got out of a lot of jams. It's not a good way to pitch, but I'm just glad we came away with the win."
The Dodgers stranded eight and were 0-for-6 with runners in scoring position.
In his last four starts against the Dodgers dating back to Aug. 1 of last season, Corbin is 3-0 with a 1.93 ERA.
"We had a lot of chances," Dodgers catcher A.J. Ellis said. "We had a lot of traffic out there but we just couldn't get the big hit. Give him credit for making pitches when he had to when they guys were out there. A lot of us felt like we should have done more damage than we did against him. But he's had a great year for a reason. He's an exciting young pitcher. It's always fun to compete against him because you know he's going to come at you with his best stuff."
Dodgers starter Hyun-Jin Ryu had not pitched in 11 days because of a stiff lower back, and the rookie left-hander's rust showed early as Paul Goldschmidt's RBI single led a two-run first inning.
In the second, Gerardo Parra led off with a double and one out later scored when Tuffy Gosewisch lined a double of his own to left to give Arizona a 3-0 lead.
Ryu (13-6) settled in after that and did not allow another run before departing after allowing 10 hits in six innings.
The D-backs added a run off the Dodgers bullpen in the seventh when Gosewisch led off with a double and scored on Goldschmidt's single to center to boost the D-backs' lead to 4-0. Goldschmidt leads the NL with 109 RBIs.
Gosewisch, who is trying to show the D-backs during the final month of the season that he can be their backup catcher in 2014, finished the night 2-for-4 with a pair of doubles, a run scored and an RBI.
It's been a long road to the big leagues for Gosewisch, who spent nine years in the Minors before getting called up for the first time earlier this season.
"I come to the field every day ready to play and when you see your name in the lineup it's a lot of fun," he said. "Especially a game like tonight where Corbin threw the ball well, everybody did, and we got a win against this team who we've struggled against the last couple of nights, we got a lot of hits. It was just a lot of fun."
Steve Gilbert is a reporter for MLB.com. Read his blog, Inside the D-backs, and follow him on Twitter @SteveGilbertMLB. This story was not subject to the approval of Major League Baseball or its clubs.