Buxton Baseball America's top Minor League player
Buxton Baseball America's top Minor League player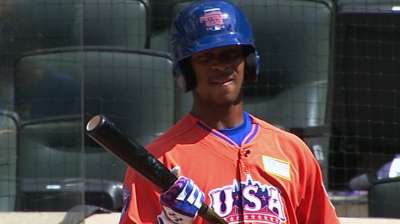 MINNEAPOLIS -- Twins top prospect Byron Buxton added to his accolades this season, as he was named Baseball America's Minor League Player of the Year on Wednesday.
Buxton, ranked as the No. 1 overall prospect by MLB.com, beat out other top prospects including Twins third-base prospect Miguel Sano, the Rangers' Joey Gallo and the Astros' George Springer.
Buxton, 19, dominated both levels of Class A, hitting a combined .334/.424/.520 with 12 homers, 18 triples, 19 doubles, 77 RBIs and 55 stolen bases in 125 games.
The five-tool center fielder hit .341/.431/.559 with eight homers, 15 doubles, 10 triples and 32 stolen bases in 68 games at Class A Cedar Rapids en route to being the MVP of the Midwest League before getting the promotion to Class A Advanced Fort Myers in late June. He proceeded to hit .326/.415/.472 with four homers, four doubles, eight triples and 23 stolen bases in 57 games at Fort Myers despite being one of the youngest players in the Florida State League.
"My thoughts are about as positive as can be," Twins general manager Terry Ryan said. "It's a tremendous honor. Baseball America has a lot of credibility when it comes to prospects and Minor League baseball. Byron had a tremendous year at two different levels. He's only 19, so you don't get those awards too many times at that level."
Buxton, who is set to play in the Arizona Fall League, joins Twins catcher Joe Mauer as the only two players in franchise history to win Minor League Player of the Year honors from Baseball America. Recent winners include Wil Myers (2012), Mike Trout ('11), Jeremy Hellickson ('10), Jason Heyward ('09) and Matt Wieters ('08).
"It's pretty exciting," Twins manager Ron Gardenhire said. "I've been told that by a few people before it was announced that he was the best player they'd seen. Tom Kelly told me he was the fastest player he'd ever seen, which shocked me because T.K. has seen a lot of baserunners and we've seen a lot of guys who can really run.
"So for him to make that statement was pretty cool. And I've had a lot of people, who usually don't tell me those things, they think he's the best player they've ever seen in the Minor Leagues."
Rhett Bollinger is a reporter for MLB.com. Read his blog, Bollinger Beat, and follow him on Twitter @RhettBollinger. This story was not subject to the approval of Major League Baseball or its clubs.