Pedro working to get Doubront back on track
Pedro working to get Doubront back on track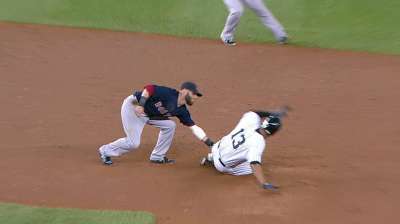 ST. PETERSBURG -- If Felix Doubront had stayed on turn in the rotation, he would have pitched on Wednesday night against the Rays.
Instead, his main activity of the day was a side session performed in front of both pitching coach Juan Nieves and special assistant to the general manager Pedro Martinez.
Though Nieves remains the key voice for Doubront and the other members of Boston's pitching staff, it never hurts to have one of the best pitchers of all-time monitoring your daily work.
Though Doubront has struggled lately after a prolonged run of consistency, Martinez thinks the lefty is just a tick away from getting back on track.
Asked if Doubront seemed tired, Martinez said, "I don't think so. He looks strong. What I pick up from myself, he was a little late in some of the movements, and that could throw off a pitch in your mechanics, too. Everybody has a trigger. Sometimes he's a little delayed on it. That's affecting him a little bit, but he's going to be all right."
When Martinez started his new job in Spring Training, Doubront was one of the pitchers he developed an immediate rapport with.
"I've been talking to him and trying to get him to fix a little bit of the little struggles he's going through," said Martinez. "But Juan has done a great job and I'm just reinforcing in Spanish. … I'm just reinforcing some of the stuff that Juan is already doing with him. We communicate better in Spanish. Sometimes Juan can be busy with one guy, and I can just help him out."
The Red Sox have hardly given up on Doubront. With Clay Buchholz back in the rotation, someone needed to skip a turn.
Manager John Farrell continued to reiterate that Doubront will be slotted back into the rotation -- perhaps as early as next week.
"He'll get another start," said Farrell. "We've just skipped him in this turn in the rotation. He'll get some side work with Juan. We have yet to determine when he's going to actually be inserted back into the rotation."
And Farrell hasn't forgotten what Doubront meant to the team from May 16-Aug. 4, when he posted a 2.55 ERA over 13 starts.
"He was very good. He was consistent," Farrell said. "I think there was a stretch of 15 consecutive [starts] where I think it was three runs or less. And at the time when Clay went down, he stepped up, as did John Lackey. Felix, after he got over some of the early-season inconsistencies and maybe some arm strength -- or less than normal arm strength -- he reeled off two solid months, two and a half months of a lot of dependability."
Ian Browne is a reporter for MLB.com. Read his blog, Brownie Points, and follow him on Twitter @IanMBrowne. This story was not subject to the approval of Major League Baseball or its clubs.