Another no-hitter flirtation ends in defeat for Crew
Another no-hitter flirtation ends in defeat for Crew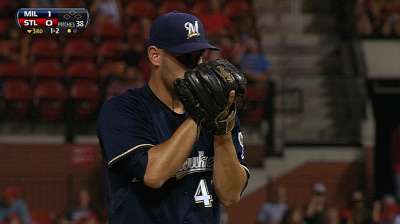 ST. LOUIS -- Busch Stadium has proven a frustrating stop for Brewers starters. Wily Peralta pitched to within 10 outs of a no-hitter on Tuesday and took a loss. Marco Estrada did the same on Wednesday and settled for a no-decision.
In a game full of defensive gems, one notable mistake by the umpires and more signs of wear for a hard-ridden relief corps, the Brewers fell to the Cardinals, 5-1, and sealed a losing season. Milwaukee dropped to 62-82 and 3-12 against St. Louis.
"They just have our number, man. It's definitely frustrating," said Michael Gonzalez, who was on the mound when the Cardinals scored all four of their runs in the decisive eighth inning.
Gonzalez reminded reporters that he was part of the 2011 Rangers team that lost to the Cardinals in the World Series and the 2011 Nationals team that lost to the Cardinals in last year's National League Division Series.
"For me, it's personal," Gonzalez said.
For manager Ron Roenicke, whose previously stout bullpen was depleted by trades and now is showing signs of wear, it is getting old.
"I'm frustrated. I am," Roenicke said. "I'm tired of getting leads and just giving them away."
The Cardinals tied the game at 1 against Estrada and Brandon Kintzler in the seventh inning, and won in the eighth. After the Cardinals loaded the bases against Kinztler with two singles and a walk, Carlos Beltran touched Gonzalez for a go-ahead sacrifice fly. Another run scored when Brewers catcher Jonathan Lucroy's snap throw to first base bounced into the outfield for an error, and Matt Adams put the game away with a 405-foot, two-run home run.
Gonzalez has inherited 38 baserunners this season and 18 have scored, including four of five in the first two games of this series.
"This is definitely the worst season I've had, overall," Gonzalez said. "Besides it being embarrassing and discouraging, [as] the veteran guy I'm supposed to go out and show these young guys how to do it. It's been the other way around lately."
Roenicke said he will experiment with other options against left-handed batters, including newcomer Michael Blazek. With Tom Gorzelanny in the starting rotation for much of the second half and now sidelined by a shoulder injury, his primary options have been Kintzler (.198 average against lefties entering Wednesday) and Gonzalez, the veteran who signed a one-year contract last winter.
"I'll give some other guys the ball and see how they do," Roenicke said.
The late letdown spoiled a terrific start by Estrada, who pitched for the first time in 11 days and, like Peralta the night before, stood on the mound with two outs in the sixth inning working on a no-hitter, something no Brewers hurler has finished since Juan Nieves in April 1987 in Baltimore. Peralta lost his bid on a home run and Estrada's ended just as painfully, when Matt Carpenter hit an elevated changeup for a line drive that struck Estrada's right Achilles and caromed to third baseman Aramis Ramirez, whose hurried throw was late and wide of first base.
Estrada stayed in the game, but his no-hit bid was over.
"If I just lift my foot, [shortstop Jean Segura] is right there," Estrada said. "But it was a bad pitch. I deserve what I got."
Safe on an infield single, Carpenter was stranded when Jon Jay lined out to end the inning. But the Cardinals tied the game at 1 in the seventh after Matt Holliday, whose two-run home run spoiled Peralta's no-hit bid on Tuesday, led off with a single. Estrada recorded two flyouts, but walked David Freese, prompting a call for Kintzler to face Daniel Descalso, who poked a tying single down the left field line.
Estrada settled for a no-decision and a quality start after allowing one run on two hits in 6 2/3 innings. He walked three and struck out six.
Estrada stood on the mound in the sixth inning working on a no-hitter only because he dodged a series of bullets in the second. With no outs and Beltran at first after a walk, Adams hit a line drive that struck the right-field wall just to the fair side of the line. First-base umpire Chris Guccione didn't see it that way, ruling the ball foul and upholding that call after conferring with the other umpires.
Adams wound up walking, but Estrada escaped thanks to his defenders. Segura went up the middle to make a diving stop of Freese's grounder, and flipped to second baseman Scooter Gennett to begin one of the Brewers' best double plays of the season. With a runner at third, Descalso hit a line drive to center field that Carlos Gomez caught with a leap. More slick defense followed. Gennett ranged into shallow right field to take away a hit from Descalso to end the fifth inning, and Gomez went back to prevent a Tony Cruz hit leading off the sixth with Estrada's no-hitter still intact. In the seventh inning, with the go-ahead runner in scoring position against Kintzler, Ramirez fielded Cruz's sharp grounder on a short hop and threw to first to end the inning.
The Brewers' only run scored in the second inning on a double steal, when Cruz's throw skipped past second base and allowed Gomez to scamper home from third.
"[Estrada] did his job, and it's unfortunate with a couple great starts that we don't win the games," Roenicke said.
Said Estrada of the Brewers' futility against the Cards: "It seems like we're always in it, and then something always happens, a little dribbler down the line or something. We were in the game, and unfortunately it fell apart."
Adam McCalvy is a reporter for MLB.com. Read his blog, Brew Beat, and follow him on Twitter at @AdamMcCalvy. This story was not subject to the approval of Major League Baseball or its clubs.