Uggla deals with another night on the bench
Uggla deals with another night on the bench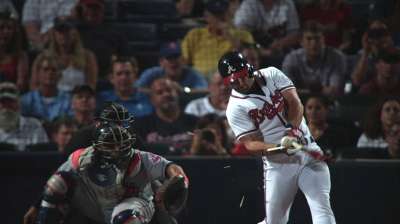 MIAMI -- Dan Uggla was not shocked when he returned to Marlins Park on Wednesday afternoon and learned that he was out of Atlanta's starting lineup for a third consecutive day. The veteran second baseman gained a sense this might happen after he met with Braves manager Fredi Gonzalez on Monday afternoon.
"It's his ballclub and I respect the decision that he made," Uggla said. "Do I agree with it? Once again, I've reiterated this lots of times: No, actually not. I don't think we're a better ballclub with me on the bench. But he's the manager and I've got to respect his decision."
Since Atlanta experienced a fourth consecutive loss on Sunday, Gonzalez has attempted to spark his inconsistent offense by not including Uggla or B.J. Upton in his starting lineup during the first three games of this week's four-game set against the Marlins. Both veterans have hit below .200 throughout most of this season.
While this might be new territory for Upton, Uggla experienced something similar last year when he was benched three consecutive games in early September and then found himself as an everyday player the remainder of the season.
"I wouldn't say I was more mad last year," Uggla said. "But I probably reacted more mad last year. I'm still affected the same way by it. I'm still just as [upset] by it this year as I was last year. But I've also grown up a little more from the experience of last year and held my emotions probably a little better this year."
Gonzalez has not provided any specifics when asked about when Uggla or Upton could return to the starting lineup. He said his approach is simply, "I'm taking it like whatever it's going to take to win today's game."
Uggla has hit just .133 (4-for-30) with a .366 on-base percentage in the 41 plate appearances he has garnered while attempting to get used to the improved vision he gained after undergoing LASIK surgery last month. His struggles have led Gonzalez to use Elliot Johnson as his starting second baseman the past three days.
With the club's comfortable lead in the National League East race, Uggla believes he should be given more time to shake off some of the rust that developed when he missed two weeks because of the surgery.
"We've got a 12-game lead," Uggla said. "I would have loved to use this time to try to get locked in for the playoffs and keep going in the direction I felt I was going. Obviously, he felt different."
Uggla admits he was somewhat embarrassed when he was used as a late-inning defensive replacement during the first two games of this week's series against the Marlins. But he has attempted to remained focused with the hope that he will regain his everyday role before the postseason arrives.
"This is a huge deal for me," Uggla said. "I've always dreamt about playing in the playoffs. I've never dreamed about sitting on the bench in the playoffs."
Mark Bowman is a reporter for MLB.com. This story was not subject to the approval of Major League Baseball or its clubs.