Scutaro, Belt come through as Giants rally
Scutaro, Belt come through as Giants rally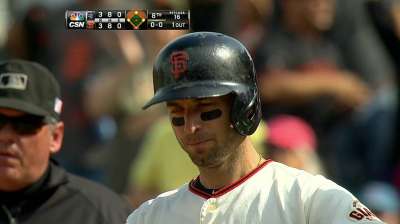 SAN FRANCISCO -- Giants second baseman Marco Scutaro talked a good game Wednesday morning, convincing manager Bruce Bochy to put him in the lineup. Then he backed up his talk with action, sparking the Giants to a 4-3 comeback victory over the Colorado Rockies.
Scutaro went 2-for-4 with a double and a game-tying RBI single in the eighth when the Giants rallied to score twice and take the lead. Not bad for a 37-year-old who has battled a bad back all season and was scheduled to take Wednesday afternoon's game off after playing in Tuesday's night 9-8 loss that took over four hours.
"That's what you love about him. He wants to play," Bochy said. "If he feels good, he wants to be out there. He was adamant. He wanted to play."
With the Giants trailing, 3-2, entering the eighth, Brandon Crawford lined a leadoff single off right-hander Matt Belisle then moved to second on pinch-hitter Angel Pagan's single. Ehire Adrianza advanced the runners with a sacrifice bunt, and the Rockies intentionally walked pinch-hitter Buster Posey, loading the bases.
Scutaro made the Rockies pay for that decision, lining a single to right to score Crawford as the Giants pulled even at 3. Brandon Belt followed with a single to left, knocking in Pagan and giving the Giants the lead.
"I was just trying to get a pitch to hit and do the job," Scutaro said.
The game was barely underway when the Giants, reigning World Series champions, were eliminated from the National League Wild Card playoff race, by virtue of Cincinnati's 6-0 win over the Cubs. The Giants were eliminated from title contention in the NL West on Monday.
"It sucks," Belt said. "The way we played the past couple months, unfortunately, we kind of knew that it was headed in this direction. But there's still some things we can work at, still some things we can get better at. I really believe we can take that confidence into the offseason and into next season."
The Giants won the series with Colorado, 2-1, and capped a 4-3 homestand. It was their first winning homestand since going 4-2 from May 20-26, winning two of three from the Nationals and the Rockies.
Five days after losing his bid for a perfect game with two outs in the ninth against Arizona, right-hander Yusmeiro Petit nearly lost his perfect record as a Giant.
Petit allowed three runs on six hits -- all singles -- over 5 2/3 innings, striking out seven and walking two. After going 3-0 with a 2.05 ERA in his first three starts as a Giant, Petit got a no-decision but avoided his first loss.
"I threw the first four innings very well," Petit said. "The last two, I missed a couple pitches. I always had the faith that we would be able to come back. That's why I tried to keep the game as close as possible."
Petit's bid for a perfect game ended Friday when Eric Chavez lined a single. He settled for a one-hit shutout, the first shutout and first complete game of his career.
On Wednesday, Petit was perfect for 3 2/3 innings. But his bid for perfection ended when he walked Corey Dickerson with a full count, and his no-hit bid ended when Michael Cuddyer singled Dickerson to second. Nolan Arenado brought Dickerson home with a single to right, as the Rockies pulled even at 1.
The Giants had grabbed a 1-0 lead in the third off right-hander Juan Nicasio when Gregor Blanco lined a leadoff single, moved to second on Hunter Pence's two-out single and scored on Pablo Sandoval's single to center.
Colorado scored twice in the sixth, using four singles, to take a 3-1 lead and knock Petit out of the game. With runners on first and second and two outs, reliever George Kontos gave up a single to Jonathan Herrera, but Giants left fielder Roger Kieschnick gunned down Arenado at the plate.
"We've played a lot of close games this year," Rockies manager Walt Weiss said. "It seems like every game is like that one. I like the fact that we're down the stretch here and our guys are showing up and competing to the last out."
The Giants loaded the bases with no outs in the seventh when left-hander Josh Outman walked Juan Perez, Scutaro and Belt, but they scored only one run in the inning, cutting Colorado's lead to 3-2. Outman gave way to right-hander Adam Ottavino, and Pence launched a sacrifice fly to deep left, scoring Perez.
The Giants left 13 runners on base, and one day after his team blew a 6-0 lead and lost to the Rockies, Bochy felt his frustration growing.
"If we would have lost this one, this would have been a hard one to take with all the chances we had," Bochy said. "I think we left a battalion on base out there today, but we had some big at-bats in that last inning with Crawford and Pagan. And I'm caught in a tough situation there, but I want to put a hitter up. I thought if they don't pitch to [Posey], I've got two good hitters behind him, and Scutaro and Belt came through."
So did Giants right-hander Guillermo Moscoso, who pitched two scoreless innings for the win, and righty Santiago Casilla, who pitched a scoreless ninth for his second save of the season.
Eric Gilmore is a contributor to MLB.com. This story was not subject to the approval of Major League Baseball or its clubs.