Haren dominates as Nats stay six back
Haren dominates as Nats stay six back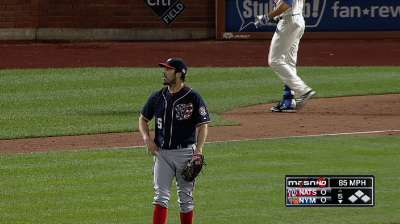 NEW YORK -- After two consecutive bad outings, right-hander Dan Haren pitched a gem on Wednesday night as the Nationals blanked the Mets, 3-0, at Citi Field.
The Nationals remain six games behind the Reds for the second and final National League Wild Card spot. Earlier in the day, the Reds shut out the Cubs, 6-0, at the Great American Ball Park in Cincinnati.
In his previous two starts, Haren had allowed 12 runs in 5 2/3 innings. On Wednesday, Haren pitched six shutout innings, allowed one hit and struck out eight batters. The hit came in the fourth inning, when Juan Lagares singled to left field with one out. Lagares was left stranded at first, as Haren retired the side in order after that.
"There is no explanation. It's just the way the season has gone," Haren said "The last game I pitched against [the Mets], I gave up six or seven straight singles. Today, I had better stuff with the strikeouts. I was getting a lot of swings and misses. I knew my stuff was better. I was happy I could come through for the team."
Manager Davey Johnson pulled Haren after six innings because the weather was hot and humid. Game time temperature was 84 degrees.
"It was just as bad of a night as I've felt this summer," Haren said. "I knew coming to the East Coast, there were going to be some humid nights. I thought maybe into mid-September, those days have passed. It was really hot. I caught my breath. The second or third inning was all right. It was nasty out there."
Johnson also didn't want to see Haren lose the game. The skipper didn't want Haren to lose his confidence after what he went through the previous two games.
"I went to him after the game and said, 'It's the first time I pulled a guy with a one hitter. It was hot out there," Johnson said. "He pitched a great ballgame. He made quality pitches all night long. Good hitters couldn't handle him."
Said Haren, "When I was rolling there in July and August, I told him when I wanted to come out, if I wanted to stay in. I lost some confidence a little bit. I get it. He thought [the six innings were] enough. I'll go with him. Maybe I'll gain it back a little bit. Next start, maybe I could tell him I feel good enough to throw another [inning]. Hopefully, that's the situation."
Johnson also wanted to see left-hander Xavier Cedeno face the middle of the Mets order in the seventh inning. Johnson is looking for a lefty who can handle left-handed hitters. Triple-A Syracuse manager Tony Beasley told Johnson that Cedeno could handle lefties better than Ian Krol, who has a 6.00 ERA since the All-Star break. Cedeno struck out Daniel Murphy and was able to get Lucas Duda to fly out to right fielder Jayson Werth.
Johnson said the team will see more of Cedeno for the rest of the season.
"[Cedeno] did a great job. I like the way he went after those two guys," Johnson said. "He'll get more work. That was a big thing in the ballgame."
The Nationals gave Haren the lead in the sixth inning when Ryan Zimmerman swung at an 0-2 pitch from right-hander Zack Wheeler and hit the ball over the left center-field wall. It was Zimmerman's 22nd home run of the season.
"I just made that one mistake to Zimmerman," Wheeler said. "As soon as I let it go, I knew it was going to be a spinner right down the middle, and he capitalized on it."
Wheeler ended up pitching seven innings and allowing the one run on eight hits.
Zimmerman has hit seven home runs in his last nine games. Johnson took notice that Zimmerman is pulling the ball more to left field.
"When he does pull the ball, he seems to get to the ball quicker," Johnson said. "He has hit a bunch of balls in the last week."
Said Zimmerman, "I'm just trying to hit the ball hard, like I've been doing all year. Finally, It's starting to come around. By the end of the year, people have what they usually have. I've been hot lately. I plan to keep it going for these next 15 or 20 games."
The Nationals scored two insurance runs in the top of the eighth, as Ian Desmond and Adam LaRoche scored on a double by Anthony Rendon.
After Haren left the game, Cedeno, Drew Storen, Tyler Clippard and Rafael Soriano blanked New York the rest of the way, with Soriano picking up his 41st save of the season.
Bill Ladson is a reporter for MLB.com and writes an MLBlog, All Nats All the time. He also could be found on Twitter @WashinNats. This story was not subject to the approval of Major League Baseball or its clubs.