Wright runs bases with eye on making return
Wright runs bases with eye on making return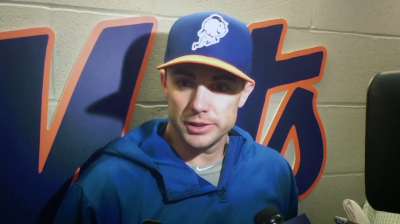 NEW YORK -- For the first time since straining his right hamstring Aug. 2, Mets third baseman David Wright ran the bases on Wednesday afternoon at Citi Field. Manager Terry Collins called it "good progress," saying the Mets plan to have Wright repeat the exercise on Thursday, before attempting to "amp it up effort-wise over the weekend."
Though Collins declined to offer a target date for Wright's return, the third baseman recently indicated that he would jump right back into the starting lineup when cleared to play. That could occur as soon as next week.
"They originally told me six weeks, and I'm at five weeks now, so I think I'm pretty close to that timeline," Wright said Monday. "Originally, they told me it was a six-week injury. Two weeks in, they told me it was a six-week injury. Nothing's changed."
One of Wright's primary backups at third base, Justin Turner, will also be out "a few days" after an MRI on Wednesday revealed "a bit of a strain" in his right hamstring, according to Collins. Like Wright, Turner injured himself running the bases.
With those two sidelined, Josh Satin played third base on Wednesday against Nationals right-handed pitcher Dan Haren, despite seeing much of his action this season versus lefties. Wilmer Flores, another option at third, has been dealing with ankle soreness throughout September, while Zach Lutz sits squarely below Satin on the depth chart.
Anthony DiComo is a reporter for MLB.com. Follow him on Twitter @AnthonyDicomo. Chris Iseman is an associate reporter for MLB.com. This story was not subject to the approval of Major League Baseball or its clubs.