Anibal fans 10, Tigers stretch AL Central lead
Anibal fans 10, Tigers stretch AL Central lead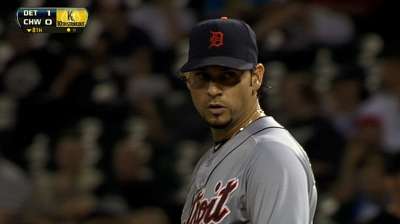 CHICAGO -- These are the games that the Tigers traded for Anibal Sanchez to help them win. These are the performances that led to him being re-signed in the offseason.
A year later, it's the deal that keeps on giving. And with his latest effort, 7 1/3 shutout innings in a 1-0 victory over the White Sox, he helped put the Tigers back into firm command of the American League Central race.
"We snuck one out," manager Jim Leyland said. "It ended up being a good day for us. I'm worried about the Tigers, but the fact that Cleveland lost today, it does push us up a little bit."
Detroit's magic number is down to 11 for clinching their third consecutive division title as it improved to 6 1/2 games over second-place Cleveland, which lost to Kansas City earlier in the day. The Royals visit the Tigers at Comerica Park for three games beginning Friday night.
After five losses in six games, the Tigers gained a game in the standings in each of the last two nights, coupled with Indians losses. Between Sanchez and Rick Porcello, Tigers starting pitching essentially took over the series and salvaged the last stop of a three-city road trip, delivering 16 1/3 innings of one-run ball.
"That's how you get out of a little funk," said catcher Alex Avila, who was behind the plate for both. "Our pitchers have been good all year. We've struggled on this road trip, and the way to get out of a little funk is by having good pitching. Guys go out there and give you a chance."
Porcello's complete game on Tuesday came in a 9-1 rout. Sanchez's gem came with no room for damage. It was the 11th shutout of the season for the Tigers, third-most in the AL, but it was the first 1-0 win.
It couldn't have come at a better time.
"You have to win one-run games, whether it's 1-0 or 4-3," Avila said. "Normally, you'll see the good teams that are getting to the playoffs, those teams have one-run wins. They win those close ballgames. They're able to find a way to win. In the playoffs, that's what the games are going to be like."
If the Tigers face more tough left-handed starters in the postseason, they might well have to win duels like this. They didn't so much hit their way to a victory against a lefty starter as they used Sanchez's performance to outlast Jose Quintana before Omar Infante's RBI single in the eighth broke the duel.
Sanchez was the starting pitcher behind two of the previous 10 shutouts, from his record-setting 17-strikeout performance against Atlanta on April 26 to his no-hit bid against the Twins on May 24. He had no history on the line on Wednesday, but with 16 games left, his 10-strikeout performance over 7 1/3 innings might have been bigger.
He overmatched some of Chicago's aggressive young hitters, but not all. Three of the five hits he allowed were to rookie leadoff man Leury Garcia, two of them infield singles. Another was a leadoff single from rookie catcher Josh Phegley.
Where Sanchez (14-7) dominated was the middle of the White Sox order, where their veterans had run-scoring opportunities. Alexei Ramirez, Paul Konerko and Adam Dunn combined to go 0-for-9 with five strikeouts and nothing hit out of the infield.
That included three opportunities in the first five innings with runners in scoring opportunities and less than two outs. All three times, Sanchez kept in command. He escaped a first-inning rally by getting Paul Konerko to ground into a double play, then used Ramirez groundouts to foil threats in the third and fifth, the latter with the bases loaded after Jordan Danks battled his way to a walk.
The first pitch to Ramirez in that situation was a 95 mph fastball down and in for a called strike that sent Ramirez into vehement protest. The next pitch, and 96 mph fastball up and in, sent him swinging into a grounder to short.
All the time, Sanchez said, he was simply trying to extend the duel.
"When you have that situation, that's my mantra all the time out there," he said. "I try to keep the score close, just waiting for the team to give me the run support or give me the lead. That happened today.
"But in the end, I give a lot of credit to Quintana. He had bases loaded in the first inning. He didn't allow any runs. He's pretty good, pretty impressive. I'm happy to be part of that. That's a good game."
For a long while, that bases-loaded chance in the first looked like a golden opportunity wasted that let Quintana settle in. He walked Miguel Cabrera and Prince Fielder after Torii Hunter's one-out single, but induced a Victor Martinez popout before striking out Nick Castellanos.
From there, Quintana essentially picked up where fellow Sox southpaw Chris Sale had left off two nights earlier. He just never got a lead to protect.
The game was still scoreless when Quintana left to start the eighth, having thrown 114 pitches over seven innings of five-hit ball. He took his 17th no-decision this season.
"It was a close game," Quintana said. "We faced a very good pitcher. I don't control the results, I control what I go out and do. That doesn't affect me."
Sanchez has been there, having battled run support issues during his days with the Marlins. He finally came out ahead thanks to his old Marlins teammate.
Matt Lindstrom replaced Quintana and induced a Cabrera groundout, but back-to-back singles from Fielder and Victor Martinez created a one-out scoring opportunity.
Lindstrom (2-4) retired Castellanos on a fly ball and put Infante in a 1-2 count before he hit a ground ball through the left side slow enough that Dayan Viciedo didn't have a play at the plate as Fielder charged around third.
Jason Beck is a reporter for MLB.com. Read Beck's Blog and follow him on Twitter @beckjason. This story was not subject to the approval of Major League Baseball or its clubs.