Sox can't cash in on Quintana's strong start
Sox can't cash in on Quintana's strong start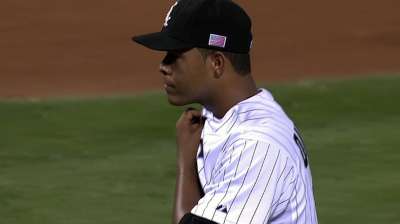 CHICAGO -- Based on the first inning of Detroit's 1-0 victory over the White Sox on Wednesday night at U.S. Cellular Field, it didn't look as if either starter was going to be around very long.
Jose Quintana and Anibal Sanchez combined to throw 51 pitches, of which just 26 were strikes, during a frame that featured five total base runners and covered 30 minutes.
The funny thing about that opening inning is that neither team scored. And Quintana and Sanchez quickly settled down to turn in quality starts.
"Both of them pitched great," said White Sox manager Robin Ventura of the transformation from the taxing first inning. "A lot of swings and misses for Sanchez. But both of them were in a little bit of trouble and battled out of it. Sanchez just pitched better."
"It was a tough first inning," said Quintana through translator and White Sox coach Lino Diaz. "After that, I tried to attack hitters and that's what I was able to do."
Detroit (84-62) finally broke through in the eighth, when Prince Fielder and Victor Martinez singled off reliever Matt Lindstrom (2-4), and Omar Infante delivered a two-out single placed perfectly between shortstop Alexei Ramirez and third baseman Marcus Semien to score Fielder. The Tigers were 0-for-10 with runners in scoring position before that hit by Infante, who is 6-for-10 with seven RBIs in his last five games while hitting with RISP.
There were earlier chances in this contest for both teams to cross the plate.
Quintana loaded the bases in the first with one out on Torii Hunter's single to center and walks issued to Miguel Cabrera and Fielder. But Martinez popped out to catcher Josh Phegley in foul territory and Nick Castellanos struck out on a 3-2 fastball at 93 mph.
In the bottom of the frame, Leury Garcia and Jordan Danks opened with singles, only to be stranded there when Ramirez struck out and Paul Konerko grounded into an around-the-horn double play started by Cabrera. The White Sox put two on in the third behind singles from Phegley and Garcia but could not score, and then loaded the bases in the fifth on two walks and Garcia's infield single.
Ramirez took a called strike as the next hitter after a free pass to Jordan Danks loaded the bases, and Ramirez didn't seem to like the call by home-plate umpire Larry Vanover. He grounded out on the following pitch and showed his anger as the inning was complete.
Sanchez (14-7), who earned a career-high 14th win, finished with 116 pitches over 7 1/3 innings, striking out 10 and walking four. He put two on with one out in the eighth, but got help from Jose Veras, who fanned Konerko, and Drew Smyly, who struck out Adam Dunn. Dunn struck out four times in the loss, and is just 8-for-78 in his last 21 games.
The White Sox three-through-six hitters finished 0-for-15 with seven strikeouts, although Ventura gave Sanchez most of the credit for that futility.
"He's getting you to swing and miss. A lot of guys weren't swinging the bat very good," Ventura said. "Any time he got in trouble, there was guys being aggressive and he was staying away from the strike zone. His ball seemed like he was making it move to both sides of the plate. Nobody really looked comfortable up there."
"When I'm out there, I'm trying to keep the score close," Sanchez said. "I'm waiting for the time the team gives me run support and gives me the lead. That happened today."
Infante opened the seventh with a double and moved to third on Alex Avila's grounder. Quintana still pitched out of trouble by striking out Jose Iglesias swinging and after hitting Austin Jackson with a 1-2 pitch, Garcia made a strong play on Hunter's slow roller to second to end the frame.
Quintana finished with six strikeouts and two walks over 114 pitches and seven innings, which wasn't a bad total considering he threw 33 pitches in the first inning. For a single-season franchise record 17th time, Quintana finished with a no-decision.
"That doesn't affect me at all," said Quintana, who owns six career starts of at least seven innings and no runs allowed without a victory in any of them. "It was a close game. We faced a very good pitcher. I don't control the results. I control what I go out and do."
Rookie Jake Petricka pitched out of a two-on, one-out jam in the top of the ninth by inducing a Cabrera double play grounder, and Joaquin Benoit pitched a perfect ninth for his 18th save and 18th straight. Ultimately, the wins and losses don't matter as much as the talent evaluation to the White Sox (58-87) at this point.
Aside from another stellar Quintana effort, the three hits, two stolen bases and solid defense from Garcia at second stood as the main attraction.
"You can see his speed and what it brings to the table," Ventura said of Garcia, a switch-hitter who hit right-handed on Wednesday because of an open blister on his left hand. "He had a couple of balls that he put on the ground that he beat out and stolen base, a couple of good plays defensively."
"I want to show what I've got," Garcia said through Diaz. "Today was the day that I showed flashes of what I can do."
Scott Merkin is a reporter for MLB.com. Read his blog, Merk's Works, and follow him on Twitter @scottmerkin. This story was not subject to the approval of Major League Baseball or its clubs.