Ruf seeing results at plate from off-field work
Ruf seeing results at plate from off-field work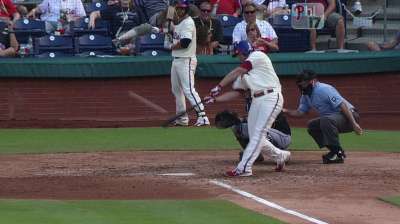 PHILADELPHIA -- Darin Ruf's first 41 games with the Phillies this season had many people believing they had found their everyday right fielder for 2014.
He hit .272 (40-for-147) with eight doubles, 11 home runs, 18 RBIs, 16 walks, 52 strikeouts and a .914 OPS from July 6 through Aug. 24. But pitchers seemed to make an adjustment, which might explain an 11-game stretch from Aug. 25 through Sept. 4 in which he hit .121 (4-for-33) with one homer, three RBIs, five walks, 15 strikeouts and a .443 OPS.
But Phillies interim manager Ryne Sandberg said he has seen improvement recently from Ruf. He entered Wednesday's game against the Padres at Citizens Bank Park hitting .333 (4-for-16) with one homer, two RBIs, four walks, three strikeouts and a 1.083 OPS in his previous four games.
"Much more patient," Sandberg said. "I know he's been getting some sliders off the machine and recognizing the ones that are strikes and the ones that are balls. He's been able to take that into the game with some longer counts. They've had to come back over the plate, whether it's a fastball or it's a breaking pitch he can handle. I think with that, he can hit to right field and he can hit outside pitches, so I think he just got away from that a little bit for a period of time. But he's getting back to what he's done the last couple years. And that's driving those pitches when they're there to the opposite field.
"He's willing to make adjustments and try something and oftentimes has gotten results from that. As pitchers learn to pitch a certain guy, the hitter needs to make the adjustment and then cover that pitch. He's shown me he can work on something and take it in the game."
Todd Zolecki is a reporter for MLB.com. This story was not subject to the approval of Major League Baseball or its clubs.