Princeton coach enjoying Venable's big year
Princeton coach enjoying Venable's big year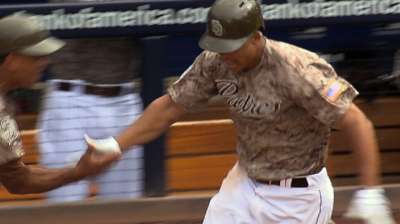 PHILADELPHIA -- On Will Venable's official recruiting visit to Princeton for basketball, his father, former big league outfielder Max Venable, stopped by to visit the baseball coach, Scott Bradley.
Bradley and Max Venable had played against each other in the 1980s.
"They came up to my office, I introduced myself to Will, and later he took off to go play basketball," said Bradley, who visited Citizens Bank Park before Tuesday's game.
"I remember Max saying that all that the kid wanted to do was play basketball. But he also said that, at some point, he might want to [play baseball]."
Venable eventually did give baseball a whirl after his sophomore year, though his initial hitting session with Bradley started out slowly.
"We went to the cages, and he's got a nice, relaxed way about him," Bradley said. "The first five pitches, he swung and missed. Will was giggling, saying 'I'm a little rusty.'
"The next five he fouled off and said he was getting closer. The next five looked like he'd been swinging his whole life. He had this nice, easy, relaxed swing we work on teaching our guys. It took him 10 swings to catch up."
Bradley, the head coach at Princeton since 1998, stopped by to visit Venable before Wednesday's game.
He said he watches every Padres game, either live or on tape. He's enjoying watching Venable's breakout season, as he entered Wednesday with career bests in hits (115) and home runs (21) and had tied his career best in RBIs with 51.
"I'm glad to see people appreciate Will as a person," Bradley said. "The way he plays, interacts with his teammates, it's great. As good a player as he is, he's an even better person."
Corey Brock is a reporter for MLB.com. Keep track of @FollowThePadres on Twitter. This story was not subject to the approval of Major League Baseball or its clubs.