Phillies pay tribute on anniversary of 9/11
Phillies pay tribute on anniversary of 9/11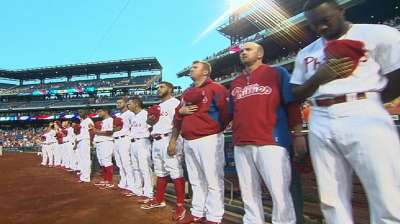 PHILADELPHIA -- The Phillies commemorated the 12th anniversary of the Sept. 11, 2001, terrorist attacks before and during Wednesday's game against the Padres at Citizens Bank Park.
The day certainly brought back memories for everybody.
"Really scary," Phillies general manager Ruben Amaro Jr. said. "I remember taking my daughter to preschool. I don't know why I was home. Back then I was just kind of starting out my career in the front office, so I was always on time. The team was on the road in Atlanta. I was not on the road. [General manager Ed Wade] was with the team.
"So I was able to go in a little later. I dropped my kids off. It was a late start to the morning. Typically I was in there by 9 o'clock. But for whatever reason it was a late start. Then I saw something going on on the TV, CNN or whatever. Then I actually was watching when the second plane hit. And that's when I started going, 'Holy mackerel, this is crazy.' I went to go pick up my daughter at school to make sure everything was fine because I got kind of panicky."
Senior Airmen Eric Anderson of the Air Force sang the national anthem before the game. Technical sergeant Karen Blackburn from the Air Force was set to sing America the Beautiful, and Philadelphia police officer Nate Fulton was scheduled to sing God Bless America.
Local police officers and firemen carried out the 50 state flags before the game, which included an All-Service Military Color Guard with members of the Philadelphia Police Department Ceremonial Color Guard and Philadelphia Fire Department Color Guard.
Phillies left-hander Cole Hamels met with members of the Liberty USO of PA and South Jersey before the game. Every uniformed personnel on both teams wore an American flag patch on the side of their caps.
A ceremonial base change involved Battalion Chief Charles Klink from the fire department and officer Paul Bryant with police dog Deeohgee from the police department.
"I think we might have been the first team to play, or one of the first [after 9/11], and I remember everybody lining up," Amaro said. "[Former manager] Larry Bowa with tears in his eyes. Very emotional. I remember being up in the box in the Vet and being very emotional, hoping the game would help people start to heal a little bit emotionally."
Todd Zolecki is a reporter for MLB.com. This story was not subject to the approval of Major League Baseball or its clubs.