Romine switching things up at plate
Romine switching things up at plate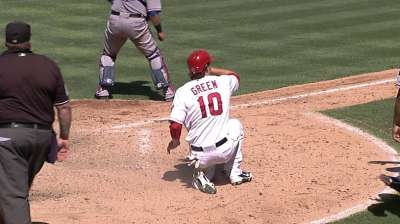 TORONTO -- It was halfway through the 2012 season when Angels infielder Andrew Romine, a natural righty who has been switch-hitting since his Little League days, decided he'd exclusively bat from the left side and see what happens.
"I just felt like I had a better swing left-handed," Romine said. "I couldn't finish my career without at least trying it. I had to give myself at least that. I had to figure it out."
That lasted about one year.
Midway through the 2013 season, Romine continued to have a hard time batting only left-handed and started switch-hitting again. That came after batting .275 in his final month in the Minors last year, then hitting .283 in Spring Training, hitting .130 in the Majors in April and batting just .250 at Triple-A Salt Lake in May and June.
It doesn't seem like a big change, particularly since most of Romine's plate appearances are still going to come from the left side against right-handed pitchers. But Romine says it's been "infinitely better" since he started switch-hitting again.
"It was weird, because it was kind of like the stress was gone," said Romine, who batted .327 in July in the Minors and had six hits in his last 17 at-bats with the Angels heading into Wednesday. "I am right-handed and learned how to hit left, so it's not like I could lose it. I do everything else right-handed. It's not like I was completely gone from it.
"There's no rocket science behind it. It just came down to the numbers."
Alden Gonzalez is a reporter for MLB.com. Read his blog, Gonzo and "The Show", and follow him on Twitter @Alden_Gonzalez. This story was not subject to the approval of Major League Baseball or its clubs.