Richards' growth, maturity evident to Butcher
Richards' growth, maturity evident to Butcher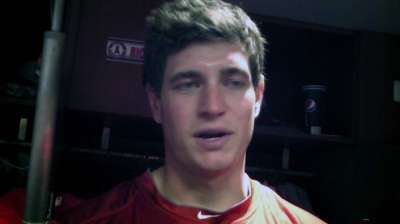 TORONTO -- Angels pitching coach Mike Butcher sees a much more mature Garrett Richards these days, one who's not only finding consistency as a starting pitcher but also has a much better grasp of the process, focusing a lot less on the big picture of his role and a lot more on the minor adjustments that must be made on a start-to-start basis.
"It's the whole maturation process, really," Butcher said. "I think he's kind of seeing the light at the end of the tunnel. It's been small increments of building a foundation and watching it grow. I think he's buying into the fact that the little adjustments that he's going to make are going to end up in big results. Because he's always had the big power arm, he's always had the nice breaking ball. And, really, it's just fine-tuning some of those things."
Butcher points to Richards' Sept. 2 outing against the Rays as a perfect example.
Richards walked seven batters that night, and Butcher thinks that was the best thing that could've happened to him. Not because he overcame it with five innings of one-run ball, but because it only worked to re-emphasize the importance of making adjustments -- mainly staying upright, having good posture and repeating his delivery.
His next time out, against the Rangers on Saturday, Richards walked only one batter, retired 14 of his last 17, struck out the side in his final inning and completed seven innings with one earned run allowed.
And now, in nine starts since taking Joe Blanton's spot in the rotation, Richards -- the 25-year-old right-hander who battled inconsistency in his previous two stints as a Major League starter -- boasts a 2.96 ERA, essentially securing a spot on the 2014 staff.
"I think when you look at his whole career, for the most part, a lot of guys who come up here have five-, six-, seven-hundred innings under their belt. And he didn't have that luxury," Butcher said of Richards, who compiled 398 1/3 innings in the Minors. "So he's had to do a lot of stuff up here, which is really hard to do. It's tough to make some adjustments, but he's made some really, really good adjustments this year, both physically and mentally, and he's matured a lot."
Alden Gonzalez is a reporter for MLB.com. Read his blog, Gonzo and "The Show", and follow him on Twitter @Alden_Gonzalez. This story was not subject to the approval of Major League Baseball or its clubs.