Eppard working to simplify Hamilton's approach
Eppard working to simplify Hamilton's approach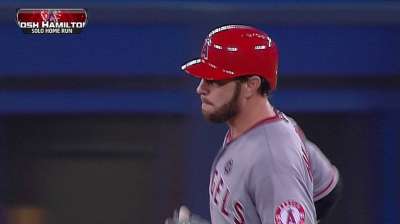 TORONTO -- Josh Hamilton has regained his form over this last month, batting .339 with four homers and 14 walks over a 29-game stretch heading into Wednesday's contest at Rogers Centre. But Angels hitting coach Jim Eppard believes more upside remains.
"It's been a year-long process," Eppard said. "I know I'm not completely where I want to be with him yet. That consistency isn't at the level that I think that he's [capable] of. In other words, I think there's more in there."
For Hamilton -- with a .243/.302/.429 slash line, 20 homers and 67 RBIs -- it all comes down to being "more comfortable and more consistent" with his swing and approach, Eppard believes. And that's particularly challenging for someone who has as many moving parts in his swing as Hamilton.
"To me, since there are so many moving parts, you just have to simplify things as much as you can," Eppard said. "So whatever he does, if you can get it simplified, then it's going to be easier to be consistent.
"We started two and a half, three months ago where it started to come on. But it's been at a snail's pace. That's the thing that's frustrating. But at the same time, you do know you're doing the right thing because there is progress being made. It just hasn't jumped as quickly as I was hoping it would."
Alden Gonzalez is a reporter for MLB.com. Read his blog, Gonzo and "The Show", and follow him on Twitter @Alden_Gonzalez. This story was not subject to the approval of Major League Baseball or its clubs.