Slam shrinks AL Wild Card lead down to one
Slam shrinks AL Wild Card lead down to one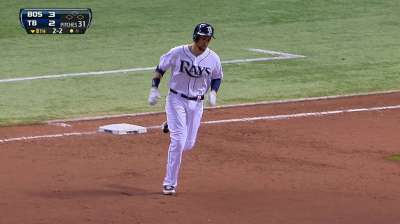 ST. PETERSBURG -- One swing, four runs and the Rays were history Wednesday night.
Mike Carp's pinch-hit grand slam off Roberto Hernandez in the top of the 10th gave the Red Sox a 7-3 win at Tropicana Field, making the Rays' prospects from making the postseason appear bleaker than at any point in recent weeks.
First-place Boston increased its margin to 9 1/2 games in the American League East over Tampa Bay, which remained in the second AL Wild Card spot. However, the field bunched closer together after Wednesday's results. The Orioles and Indians lost, leaving both 1 1/2 games behind the Rays, but the Yankees and Royals won to move to within one and two games, respectively, of Tampa Bay.
Since being percentage points ahead of the Red Sox for first place in the AL East at the end of play on Aug. 24, the Rays have gone a Major League-worst 4-13. At the other end of the spectrum, Boston has gone a Major League-best 14-3.
Tampa Bay, which has had trouble scoring runs the past few weeks, had clawed back into Wednesday's game, scoring three unanswered runs after falling behind 3-0 in the third. James Loney minted the last of the runs with a solo home run off Brandon Workman in the eighth that tied the game at 3.
After a scoreless ninth, Joel Peralta took over for Fernando Rodney and walked Dustin Pedroia to start the Red Sox 10th.
"I've got to go in there, throw strikes and challenge guys, and I haven't been able to do it lately," Peralta said. "So it's on me."
Shane Victorino sacrificed Pedroia to second before David Ortiz was intentionally walked. Hernandez relieved Peralta and walked Mike Napoli to load the bases. Red Sox manager John Farrell then opted to send Carp to the plate to pinch-hit for Jonny Gomes.
"Given that Hernandez has better success against right-handers -- I think Gomes at the time was 0-for-8 or 0-for-9 against him -- and Mike has been so productive in that role," Farrell said.
Hernandez threw a first-pitch slider and Carp deposited the ball on the other side of the center-field wall to give the Red Sox a 7-3 lead and the team's first pinch-hit grand slam since Kevin Millar on June 7, 2003, at Milwaukee. According to the Elias Sports Bureau, the blast marked the first extra-inning, pinch-hit grand slam in Red Sox history.
"I was looking for something out over the plate that I could put a good swing on, and he hung a slider and I ended up doing a lot more than I expected to do with it," Carp said. "The ball carried over the fence. Grand slam. Unbelievable."
Manager Joe Maddon defended his move to lift Peralta, who has been the team's most consistent reliever, and bring on Hernandez, who recently was relegated to the bullpen from the starting rotation.
"I liked the move at that particular moment," Maddon said. "Joel did not look like he had his best stuff. He'd already warmed up earlier in the game and we brought him back two innings later. ... The reason I put [Hernandez] in there is because he puts the ball on the ground. Two big plays, the walk to Pedroia and the walk to Napoli, set the whole thing up. … And even percentage-wise [Hernandez has] got a chance to put the ball on the ground with Carp right there."
Hernandez declined to talk to reporters.
Maddon did not appear to be as unsettled about his team's pitching as he was his team's hitting, which has misfired a lot in the clutch recently.
"It's with runners in scoring position," Maddon said. "We're getting people out there. We did again today -- we had people on base often. We were just not able to finish the deal."
Tampa Bay was 1-for-10 with runners in scoring position. During their current 17-game skid, the Rays are batting .173 with runners in scoring position. On top of that, they have failed to collect a hit with the bases loaded in their past 12 attempts and they have collected just two hits in their past 22 at-bats when the bases were full, including seven double plays.
"It's tough right now," said Wil Myers of the offense. "There's nothing to really say after a loss. We can't do anything about it. We've got to get better, and that's all there is to it."
Despite all of the Rays' recent losses, Maddon likes the fact that his team still controls its destiny where making the postseason is concerned.
"First of all, we're still in a Wild Card situation," Maddon said. "Everybody's been preaching doom and gloom, and from my perspective, it's been a very tough run right now. However, as we right ourselves, we're in pretty good position to continue on into the playoffs. I don't want our guys to go out there and worry about sharp objects. Just go out there and continue to play and get ourselves right."
Added Myers: "It's good we still are a game up, somehow. That's nice to think about that, but it still doesn't change the fact we're losing."
Bill Chastain is a reporter for MLB.com. This story was not subject to the approval of Major League Baseball or its clubs.