Pinch of magic: Carp's slam powers Sox
Pinch of magic: Carp's slam powers Sox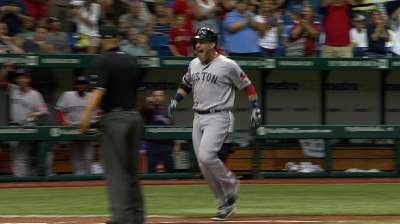 ST. PETERSBURG -- You never know exactly when Mike Carp is going to appear for the Red Sox. It's just that when he does come off the bench -- be it for a spot start, a late-inning substitution or a pinch-hitting appearance -- the chances are pretty good that he is going to find a way to produce.
Manager John Farrell's indispensable reserve took it up even another notch on Wednesday night at Tropicana Field, when he belted a pinch-hit grand slam to center field with one out in the top of the 10th.
Backed by Carp's game-breaking slam, the red-hot Red Sox upended the reeling Rays, 7-3.
The shot came on the first pitch Carp saw from reliever Roberto Hernandez.
"I'm not letting a good pitch go by," said Carp. "I'm not taking that. He gave me something to hit and got it up in the air, and it just kept going."
In sending up Carp, Farrell pinch-hit for Jonny Gomes, another player who has come up with his share of late-game heroics this season.
"Well, Hernandez has better success against right-handers. I think Gomes at the time was 0-for-8 or 0-for-9 against him," Farrell said. "Mike has been so productive in that role. To sit there for nearly four hours and come up and swing at the first pitch you see for a grand slam is pretty remarkable."
It was the second grand slam of Carp's career, and first since Sept. 19, 2011.
For the Red Sox, it was the first pinch-hit grand slam since Kevin Millar on June 7, 2003, at Milwaukee. Also, it was the first pinch-hit, extra-inning slam in team history.
"To come in and do what he did, you only see that in the movies," said David Ortiz.
With 15 games left in their season, the 89-58 Sox now lead the Rays by a season-high 9 1/2 games, and Boston's magic number to clinch the American League East is down to eight.
"We're not trying to get comfortable," said Ortiz. "I mean, we're trying to get comfortable winning games, but not like, 'OK, chillax.' We're not playing any of that. We'll chillax in November."
Maybe some time between now and November closer Koji Uehara will be something less than perfect. Uehara earned the win with a scoreless ninth, increasing his streak of consecutive batters retired to 34. That mark, according to research by SABR, is believed to be the longest in team history, surpassing Ellis Kinder, who retired 32 straight in 1952.
Farrell will sometimes hold Uehara back for an extra-inning save situation on the road rather than bringing him on in a tie game, but the Rays had the meat of their order coming up in the ninth, while the Sox had their best hitters coming up for the 10th.
Once Uehara mowed through the Rays, Dustin Pedroia led off the 10th with a walk and Shane Victorino bunted him to second.
Rays manager Joe Maddon then ordered an intentional walk to Ortiz. Out of the bullpen came Hernandez, and he walked Mike Napoli on four pitches.
Then it was time for Carp, and he delivered. In 188 at-bats this season, Carp is hitting .314 with 16 doubles, nine homers and 37 RBIs.
Don't be so sure the 27-year-old Carp's future is as a utility player.
"That guy is a good hitter, though. One day he's going to get plenty of at-bats," said Ortiz. "He reminds me of myself when I first started. He doesn't get to play too much, but he has a good swing. He works hard to stay compact."
It wasn't one of the prettier games Ryan Dempster has pitched, but he got the job done. Over five innings, the righty gave up four hits and a run, walking five and striking out seven. Of Dempster's 106 pitches, 58 were strikes.
Dempster left with a 3-1 lead, in position to get the win.
But the Rays rallied back against Brandon Workman. In the seventh, Tampa Bay started a two-out rally on a walk by Ben Zobrist. Evan Longoria drilled a double to center to slim the deficit to 3-2.
James Loney delivered the equalizer, a solo shot to right against Workman with one out in the eighth.
"Workman had very good stuff," said Farrell. "It was a matter of the four-pitch walk and the curveball that stayed up on the plate."
The Red Sox had their first rally in the third. Pedroia started it with a one-out single to right and Victorino doubled to left. Despite the fact Napoli has been red-hot of late, Maddon issued an intentional walk to Ortiz. Napoli capitalized, looping a two-run double to right that bounced off right fielder Wil Myers. Daniel Nava followed with a fielder's-choice grounder to make it 3-0.
Back came the Rays in the third. Yunel Escobar led off with a double and David DeJesus doubled him home. After that, Dempster navigated his way out of the jam. He got help from Stephen Drew, who made a diving play in the hole on a grounder by Matt Joyce and got the throw off to Pedroia just in time for the inning-ending force.
"I got a good jump on the ball and threw a perfect strike to Pedey," said Drew. "Huge play. I was just glad to be able to make it."
With 14 wins in their past 17 games, the Red Sox appear to be firing on all cylinders at just the right time.
"That's the plan," said Pedroia. "Try to get towards the end and play our best baseball. You see year in and year out, the team that wins the World Series is playing the best in the end. We're going to keep trying to continue playing the game the right way and find ways to win."
Ian Browne is a reporter for MLB.com. Read his blog, Brownie Points, and follow him on Twitter @IanMBrowne. This story was not subject to the approval of Major League Baseball or its clubs.