Rockies figuring out where Pacheco fits
Rockies figuring out where Pacheco fits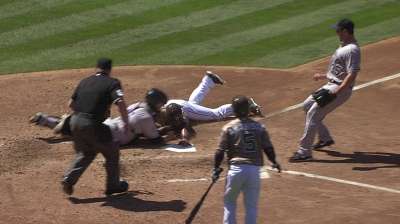 SAN FRANCISCO -- The Rockies' Jordan Pacheco made his sixth appearance and fourth start of the season at catcher Wednesday as he tries to establish his future role.
Pacheco, 27, led Major League rookies with a .309 batting average last year in regular time at first base and third base, but this year the return to health of first baseman Todd Helton and the emergence of rookie third baseman Nolan Arenado left him with limited playing time. The Rockies sent him to Triple-A Colorado Springs for three weeks in late July and early August to work on catching.
From his return to the Majors through his pinch-hit RBI single in Tuesday night's 9-8 victory over the Giants, Pacheco hit .381 (8-for-21) with four doubles and three RBIs. The surge brought his season average going into Wednesday to .244
"I don't think anything has changed, although the game has slowed down a little bit," Pacheco said. "But really there's not too much different. Just a different outcome."
One option for the Rockies is to expand Pacheco's catching opportunities by not bringing in another backup. This year, they went with Yorvit Torrealba to mentor regular catcher Wilin Rosario, who is a work in progress defensively.
"The way the club was set up this year, it's been tough on Jordan, especially coming off the season he had last year," manager Walt Weiss said. "I completely understand that. It's been difficult to get him consistent time.
"But we like him behind the plate. We like the fact he can go to first. He hasn't played third this year. But there's some versatility we like."
Pacheco is careful not to state a preference for his role, mainly because he doesn't want to limit himself.
"I don't want to say, 'I can't contribute at this position,'" Pacheco said. "I don't know where the best spot is or what position. Pinch-hitting, catching, playing another position, I want to be able to do it all."
Thomas Harding is a reporter for MLB.com. Read his blog, Hardball in the Rockies, and follow him on Twitter @harding_at_mlb. This story was not subject to the approval of Major League Baseball or its clubs.