Blue Jays start fast, but fizzle, in loss to Angels
Blue Jays start fast, but fizzle, in loss to Angels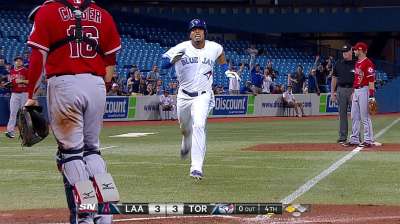 TORONTO -- Early on it seemed like the Blue Jays would have no trouble taking care of C.J. Wilson and the Angels, but that feeling didn't last long.
The Blue Jays put together a three-run first inning against the Los Angeles starter, but could muster only one more the rest of the way, allowing the opposition plenty of time to mount a rally. The bullpen then surrendered a decisive sacrifice fly in the eighth as Toronto fell, 5-4, to Los Angeles at Rogers Centre on Wednesday night.
Aside from the runs, Toronto's first inning accounted for exactly half of the offense the club would manage. The Blue Jays put together two hits and two walks in the first, the same total they provided for the remaining eight innings.
The bright spot in the Blue Jays' offense was 24-year-old Moises Sierra, who was called up in late August thanks to injuries to Colby Rasmus and Jose Bautista.
Sierra has had trouble in the field with running routes and hitting the cutoff man, but his bat has certainly made a difference. After struggling through his first few games in August, the Santo Domingo, Dominican Republic, native has found his stroke in September.
The outfielder has batted .367 over those nine games, including a 3-for-4 night Wednesday.
"I feel good," Sierra said of his three-hit night that tied a career high. "A couple of good swings. I concentrated on my swing, and I feel good."
"We had four hits, and he had three of them," added manager John Gibbons. "It's in there, now it's just a matter of it coming out."
All three of Sierra's hits were for extra bases, but it was his hit in the fourth that provided all sorts of dramatics.
With the clubs tied at 3, Sierra hit a ball in the gap in right field. It took a funny hop to the wall, allowing Sierra to stretch it into a triple, and he came all the way around to score after third baseman Andrew Romine couldn't handle the toss from Erick Aybar on the relay from the outfield for an error.
"I tried to make a good swing and tried not to do too much," Sierra said of his opposite-field hit. "Try to see the ball and hit it."
It was also Sierra who got the Blue Jays on the board in the first.
With runners on the corners, Sierra smacked a double to the gap in left-center field to score Rajai Davis. Then, Mark DeRosa beat out an infield single, scoring Adam Lind from third, with Sierra plating the final run of the inning on a throwing error to put the Blue Jays ahead, 3-0.
From there, however, Wilson settled in and pitched his way to victory.
"Other than that [first inning], I thought he looked good all night," Gibbons said of Wilson. "He can carve you up. He has that nice cutter that he runs inside to the right-handers and really kind of neutralizes you in a lot of ways, and then can go to the outside part of the plate. He keeps you off-balance, and he's sneaky."
The Angels left-hander picked up his 16th win of the season thanks to Kole Calhoun's tiebreaking, eighth-inning sacrifice fly off of reliever Steve Delabar. Calhoun's drive to left field scored Mike Trout from third, his second sacrifice fly of the game and third by the Angels.
While Wilson seemed to find his groove after a rocky first, Blue Jays starter R.A. Dickey had trouble for much of the night finding consistency.
Dickey was unable to hold the Blue Jays' lead on two occasions and failed to get out of the sixth inning, breaking a streak of 15 straight games of pitching a minimum of six frames.
It became obvious in the second that the Angels would likely start teeing off on Dickey's knuckleball.
Toronto's three-run lead lasted only two batters. Dickey gave up a walk to Josh Hamilton before Mark Trumbo hit a long home run to straightaway center field into the second-deck patio to cut the lead to 3-2.
The home run was Trumbo's fourth in six games and his fifth extra-base hit in six plate appearances in the series.
Trumbo's home run continued a season-long issue for Dickey, who has now surrendered 31 homers, the second most in the Majors.
"The ball that Trumbo hit would have been out of any park, that was well hit," said Dickey, who allowed four earned runs on seven hits and two walks, while striking out two in 5 1/3 innings
While the home run ball started the Angels' comeback, the knuckleballer did pass the 200-innings mark for the third straight season.
"It's hard to throw that many innings and not give your team consistent chances to win ballgames, that's always something that's nice. But the innings need to be quality innings," Dickey said. "For a lot of the year they have been, for some of the year they haven't been. So there's a lot for me to improve on.
"It means something, but it's only a silver lining to a year that for the most part has been a struggle. But there is some optimism in that."
Toronto's second consecutive loss to the Angels ended the club's streak of four straight series victories.
Evan Peaslee is an associate reporter for MLB.com. Follow him on Twitter at @EvanPeaslee. This story was not subject to the approval of Major League Baseball or its clubs.