Pagan providing big spark since return
Pagan providing big spark since return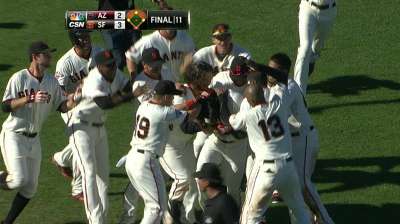 SAN FRANCISCO -- In his first game back from left hamstring surgery, Giants center fielder Angel Pagan went 1-for-3 with a double and scored the winning run in a 1-0 victory at Arizona on Aug. 30. Since then, the hits have just kept coming for Pagan.
In his 10 games since returning, Pagan batted .350 (14-for-40) with three doubles, a triple, four walks and an RBI, raising his average from .262 to .278. He had a walk-off single Sunday in a 3-2, 11-inning win over the D-backs.
Pagan missed 82 games but hit the ground running when he returned.
"I feel pretty good because that means the hard work I put in in Arizona is paying off," said Pagan, who got a much-deserved day off Wednesday when the Giants played Colorado in the finale of a three-game series.
Giants manager Bruce Bochy said Pagan's strong play since returning from surgery and a long layoff has surprised him "a little bit."
"He's showing no effects from the surgery," Bochy said. "Really amazing because that was a really good-sized tendon they took out. It hasn't affected him at all."
Even thought the Giants' legitimate playoff hopes faded early this season, Pagan said it was important for him to rejoin his teammates and help set the tone for next year.
"I love this game so much," Pagan said. "When you're not playing, you're watching your teammates struggling, you get kind of anxious. That gave me a motivation because I wanted to be here with my teammates in the ups and downs, and I wanted to finish the season strong.
"We have goals. Just because we're not going to go anywhere, we're not going to sit down and wait until the season is over. We have to really set up goals and create momentum. I think the momentum we want to create at the end of the year is what's going to help us get ready for the next one."
After the Giants' 9-8 loss Tuesday night to Colorado, Bochy pointed out how much it means to have Pagan back in action.
"Since he's been back we've had more energy, more life," Bochy said. "It's good to have him back playing every day."
Pagan said he appreciated Bochy's praise.
"That's good to know. That definitely will give you more motivation to work even harder and just help the team," Pagan said. "We have a great team, but it's one of those years where nothing happens for you or for the team. And we're a team. We feel for each other.
"I'm sure that the next year is going to be a very good team because I know the guys are going to use this year, they're going to say, 'Do I want to go through that again?' And I'm sure they're going to come back ready for Spring Training and just work for another championship season."
Eric Gilmore is a contributor to MLB.com. This story was not subject to the approval of Major League Baseball or its clubs.