Pelfrey, bullpen endure rough night against A's
Pelfrey, bullpen endure rough night against A's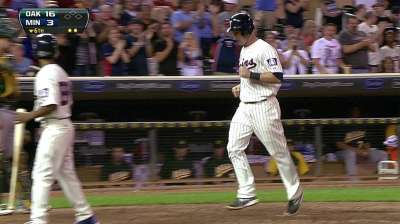 MINNEAPOLIS -- It was about as ugly as it gets for the Twins on Wednesday night at Target Field.
The Twins suffered their worst defeat of the season, as they set a season high by surrendering 18 runs, including 10 in the fourth inning, in an 18-3 rout by the A's.
The 15-run loss eclipsed Minnesota's biggest margin of defeat this year, a 13-0 loss to the Royals in Kansas City on Aug. 5. The Twins also gave up a season-high 22 hits, and yielded their most runs since allowing 20 to the Rangers on July 25, 2011.
Twins manager Ron Gardenhire, who was ejected in the 10-run fourth inning, would not take questions after the game, instead offering a statement on his team's performance.
"A bad night, obviously, all the way around," Gardenhire said. "We didn't pitch very well. They beat the crap out of us. The ball went flying everywhere. A couple good things, [Eric] Fryer hit his first home run. It was nice to see. But other than that, not too much to talk about. Just a bad night all the way around. Pitching, the whole package. They kind of dominated us. [Mike] Pelfrey didn't have it. No one else had it."
Pelfrey lasted just three-plus innings, giving up seven runs on eight hits and a walk with two strikeouts. It was his third-shortest outing of the year, and he needed 78 pitches to record just nine outs.
"It's the worst outing I've had in a long time," Pelfrey said. "I fell behind everybody and threw balls over the middle and that's what's going to happen. You don't get away with this. It was atrocious. There's no other way to put it."
But Pelfrey, who is having his innings monitored because he's coming off Tommy John surgery, said he's hopeful he'll remain in the rotation and make his next start. He's thrown 143 1/3 innings in 27 outings after throwing just 19 2/3 innings last year with the Mets before undergoing elbow surgery May 1.
"We haven't really discussed that," Pelfrey said. "Hopefully they don't shut me down. Maybe we'll talk. But I felt fine.
The A's opened the scoring in the second on an RBI double from Yoenis Cespedes before tacking on two more in the third on a solo homer from Coco Crisp off the foul pole in right field and an RBI single from Brandon Moss.
The floodgates opened in the fourth, when the A's opened the inning with four straight hits against Pelfrey, including RBI singles from Stephen Vogt and Eric Sogard. After Sogard's single, Pelfrey was removed in favor of right-hander Josh Roenicke, but he didn't fare any better.
"It gets to the point where hitting become contagious," Pelfrey said. "Obviously, those guys caught fire there in the fourth. It was hard to stop. I put this team in a really bad spot. I fully take responsibility for this game."
Roenicke promptly surrendered an RBI single to Josh Donaldson before surrendering a two-run double from Jed Lowrie on a rare overturned foul call. Lowrie's hit down the line was originally ruled foul by first-base umpire Bill Miller but after meeting with the other umpires, Lowrie was awarded a two-run double. Gardenhire came out to argue and was ejected by Miller.
Cespedes then ripped a two-run double to knock Roenicke from the game with right-hander Ryan Pressly coming in to face Daric Barton. Barton brought home another run with an RBI single before Stephen Vogt crushed a two-run homer to give the A's a Target Field-record 10 runs in the inning.
Right-hander Cole De Vries came in for the fifth for the Twins to make his season debut but also struggled. He gave up a two-run blast to Jed Lowrie before giving up what was originally ruled a two-run homer for Josh Reddick. But Reddick's homer was overturned after a video review and the A's ended up scoring only one run on a sacrifice fly from Barton the rest of the inning. Oakland capped the scoring with two runs in the ninth against right-hander Michael Tonkin.
Right-hander Sonny Gray picked up the win for the A's, giving up two runs on four hits and three walks over five innings with seven strikeouts. The Twins scored against Gray in the third on an RBI single from Brian Dozier and in the fifth on an RBI double from Alex Presley.
"As a pitcher you'd much rather sit there for 30 minutes than two or three minutes because that means you're scoring some runs," Gray said. "It was nice to have the offensive display we had tonight."
Fryer provided one of the few positive moments for Minnesota, homering in his first at-bat of the season with the Twins in the sixth on a solo blast off left-hander Tommy Milone. It was Fryer's first homer in 17 career big league games.
"The game was out of hand, but it felt good," Fryer said. "It's a big yard. I didn't know if it would get up or get out. It was fantastic."
But that moment was about it for the Twins, who still have a chance to win the series with a victory over the first-place A's on Thursday afternoon.
Rhett Bollinger is a reporter for MLB.com. Read his blog, Bollinger Beat, and follow him on Twitter @RhettBollinger. This story was not subject to the approval of Major League Baseball or its clubs.