Reds secure must-win finale against Cubs
Reds secure must-win finale against Cubs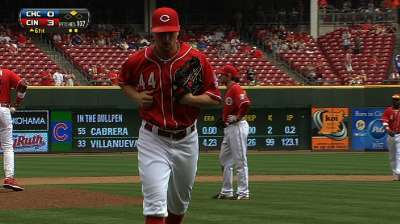 CINCINNATI -- The Reds certainly wanted to win either of the first two games of their series with the Cubs. Because they didn't, showing little offense in the process, Wednesday's series finale was a lot less about wanting a win than needing one.
By taking a 6-0 victory over the Cubs, the Reds met this essential requirement for the completion of a 7-3 homestand. Under the circumstances, that smelled a lot sweeter than a 6-4 finish had Cincinnati been swept by last-place Chicago after winning six out of seven vs. the Cardinals and Dodgers.
"We needed it big-time," Reds manager Dusty Baker said. "We hated to let the Cubs get out of here with two, but it would have been worse with three."
Now, the Reds get to enjoy Thursday's off-day before embarking on the final road trip of the regular season. It's a 10-day, nine-game trip through Milwaukee and Houston before they head to Pittsburgh for a three-game series with potentially huge playoff implications.
"I think if you looked at our schedule here in September and you saw that first series against the Cardinals and then the Dodgers and said we'd be 7-3 before going on the road, I think everybody would be pretty happy," said catcher Devin Mesoraco, who hit a solo home run in the fourth inning. "We've been playing some good ball. It's just a matter of consistently doing it, day in and day out, and seeing where things end up. If we play like that, things will take care of themselves."
Coming off scoring only one run in the first two games, the Reds' lineup took its first lead of the series with small ball against Cubs starter Jeff Samardzija in the second inning. Following a single to left field by Jay Bruce, Todd Frazier blooped a double near the left-field line. Xavier Paul drove in the game's first run with a groundout to second base that plated Bruce. Frazier was running on contact from third base when Zack Cozart's soft grounder to second plated the second run.
The Reds pulled away in the middle innings when Mesoraco hit a 0-1 Samardzija pitch into the left-field upper deck for a one-out solo home run in the fourth inning. In the sixth on a 3-2 pitch, pinch-hitter Jack Hannahan connected for a three-run homer to right field and a six-run lead, his first with Cincinnati. Not only was it Hannahan's first homer of the 2013 season, it was the first of his career as a pinch-hitter.
"Just a couple pitches that made it look a little skewed," Samardzija said. "When you're playing a good team like the Reds, you got to be perfect all the time or else they're going to make it hurt."
By the time Hannahan went deep, Reds starter Mike Leake was already out of the game after throwing 107 pitches over 5 2/3 scoreless innings during a hot, muggy afternoon to get his career-high 13th victory.
Although Leake (13-6, 3.35 ERA) gave up four hits and struck out six, he labored throughout and had four walks. But he found ways out of jams.
"It did feel like it got hotter every inning," said Leake, who reached 182 2/3 innings for the season, also a new career high. "I didn't have my best stuff, but I was able to put some zeros up there and keep us in the game."
Following a two-out walk to Anthony Rizzo in the first inning, Nate Schierholtz's double put runners on second and third. Brian Bogusevic grounded out to first base to end the threat. Leake walked Welington Castillo with one out in the second inning before getting away with a 4-6-3 double play from Darwin Barney. After back-to-back one-out walks in the third inning, Leake struck out Rizzo and got Schierholtz to ground out to first base to escape another jam. The threats escalated Leake's pitch count to 56 through three innings and 72 after four.
"It wasn't easy at all. It was quite difficult, actually," Baker said of Leake's afternoon. "They loaded the lineup with left-handed hitters. He maneuvered his way in and out of trouble. He battled, big-time."
After Leake was lifted following Junior Lake's two-out double to left field in the sixth, J.J. Hoover got a Castillo flyout to center field to keep the Cubs scoreless. The Reds' bullpen trio of Alfredo Simon, Manny Parra and Sam LeCure completed the shutout, the staff's 16th of the season.
The Reds, who won 14 out of 19 games in the season series vs. the Cubs, trail the first-place Cardinals by three games and the second-place Pirates -- who beat the Rangers, 7-5, on Wednesday -- by two games in the National League Central race. Only 15 games remain in the regular season for Cincinnati.
That made avoiding a series sweep against the Cubs all the more paramount.
"Despite the last two games, we had a great homestand," Leake said. "We played two playoff-caliber teams. That's what it's going to be like if we're going to make it. It was awesome to see."
Mark Sheldon is a reporter for MLB.com. Read his blog, Mark My Word, and follow him on Twitter @m_sheldon. This story was not subject to the approval of Major League Baseball or its clubs.