Cingrani's back injury has Reds pondering
Cingrani's back injury has Reds pondering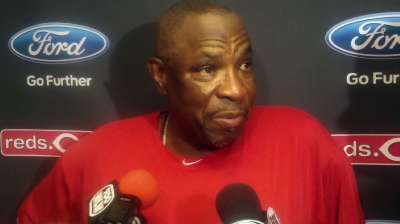 CINCINNATI -- The Reds were still trying to determine their course of action with lefty starter Tony Cingrani, who was forced to exit his Tuesday start against the Cubs after 1 2/3 innings because of back spasms. It was a similar injury to the lower back strain that caused him to miss two starts at the end of last month.
"We're trying to decide whether he goes on the road with us initially or if he stays back here for therapy and to see the chiropractor and all that stuff," Reds manager Dusty Baker said. "I like the guys to come with us down the stretch as soon as they can so they can feel the intensity of the pennant race. It's different than anything they have ever experienced, even if they went to the College World Series or here and there."
As for the rotation, the Reds have Cingrani's next turn on Tuesday in Houston listed as TBA. The club has the next three Thursdays off before the end of the regular season, which means the order of assignments could be juggled and Cingrani can be skipped. Cincinnati has six of its final nine games against Pittsburgh.
"We haven't decided," Baker said. "You have to decide which guys pitch better with extra days. Some guys pitch worse. We'll let you know. I know you want to know all of this in advance, but we can't give it to you. It's subject to change, because it depends on where we are in the standings and a lot of stuff. That's what you can do with the off-days. You can change stuff around."
Mark Sheldon is a reporter for MLB.com. Read his blog, Mark My Word, and follow him on Twitter @m_sheldon. This story was not subject to the approval of Major League Baseball or its clubs.