Cueto's second live session encouraging
Cueto's second live session encouraging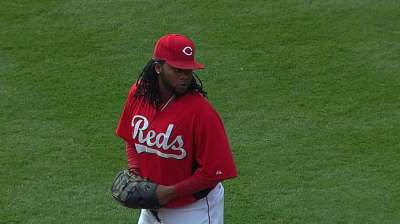 CINCINNATI -- Reds pitcher Johnny Cueto moved another step closer to returning for his club's final stretch run on Wednesday, when he faced hitters in his second live batting-practice session.
Cueto threw 60 pitches to hitters Neftali Soto, Derrick Robinson, Jack Hannahan and Henry Rodriguez.
"He was throwing pretty good," Reds manager Dusty Baker said after watching the session. "It's not surprising to me. He's so mechanically sound. He tired a little bit at the end, which was to be expected. It's a matter of endurance. His velocity was still pretty good."
Of course, the question begs: What's next?
"I don't know," Baker said. "We'll have to see how he comes out of this one. We're trying to be optimistically cautious."
The Reds have every reason to be deliberate. Cueto was placed on the 15-day disabled list for the third time this season on June 29 with a strained right lat muscle. The injury has cropped back two previous times, even when all appeared to be going well. Cueto didn't feel he was coming back too quick and reported no issues.
"I feel good. I don't feel anything," Cueto said via translator Tomas Vera.
Cueto threw an assortment of pitches, both from the windup and stretch.
"I was trying to go more in the stretch than the windup, because I don't have the feel yet," Cueto said. "So I'm trying to do that, and there's a possibility I will make some changes later."
As for the windup, Cueto stayed with the twisting motion that has him turning his back to the hitter. The club's medical staff did not believe that was the source of his previous injuries.
"It's just a little different," Cueto said. "The difference is, I stay more in front when I decide to do the whole turn. That way, I can do it better."
Indications had been that the Reds might initially use Cueto in a relief role rather than putting him back in the rotation. But the club is still going over its options, which had a wrench thrown in the works when Cueto's replacement -- Tony Cingrani -- had a relapse of back trouble and left his Tuesday start after only 1 2/3 innings in Cincinnati's 9-1 loss to Chicago. Wednesday's 60-pitch session could be a sign that starting is still possible.
Since joining the Reds organization, Cueto has had no big league relief appearances, but did pitch 16 times in relief in the Minors and the Dominican Summer League, though none since 2005. He was prepared to be flexible about his role.
"It's whatever they want," Cueto said. "I'll do it the way they want me to do it."
Mark Sheldon is a reporter for MLB.com. Read his blog, Mark My Word, and follow him on Twitter @m_sheldon. This story was not subject to the approval of Major League Baseball or its clubs.