O's now trail Yanks in Wild Card standings after loss
O's now trail Yanks in Wild Card standings after loss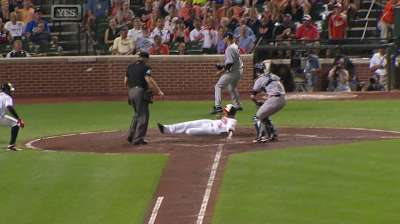 BALTIMORE -- A year ago, the Orioles' bullpen was magnificent in locking down late-game leads, with the relief corps a big reason why Baltimore was able to go a baseball-best 29-9 in one-run games and advance to the American League Division Series.
That magic hasn't repeated itself. A night removed from surrendering four late-game runs, the Orioles 'pen again caved, with two ninth-inning scores off Tommy Hunter sinking Baltimore's hopes of making up Wild Card ground in Wednesday's 5-4 loss to the Yankees.
The losing effort wasted a four-hit night from Danny Valencia and a superb outing from starter Scott Feldman, costing Baltimore (77-68) -- which fell a half-game behind the Yankees -- a chance to make up ground on a scuffling Tampa Bay team that remains 1 1/2 games in front of them for the second American League Wild Card spot.
"We've got to be better," center fielder Adam Jones said of an Orioles club that is an AL-worst 16-26 in one-run games and 33-35 in games decided by two or fewer runs. "We've got to be stronger in the later innings as an offense, and a defense, as a pitching staff. This is a team loss. … As a team, we've just got to be that much better. That's really all there is to it."
Baltimore -- which dropped to 6-5 over its last 11 games -- has struggled over the past two-plus months to put together a hot stretch reminiscent of 2012, with Wednesday's loss putting them at 24-25 since the All-Star break.
"There's a lot of baseball left," said manager Buck Showalter, who has made it no secret he's managing with a pretty beat-up bullpen. "Tonight was a tough night for us, like last night, but these guys will turn the page and compete their rears off tomorrow. Anybody that would want to close the door on us would be making a mistake."
The O's, who watched a two-run lead disappear on a pair of homers, couldn't keep the Yankees down. Hunter, who Showalter made sure to give off Tuesday, allowed a leadoff ninth-inning homer to Robinson Cano and was charged with another run after exiting in favor of lefty Troy Patton.
"It was a tie game," Hunter said of the situation after recording the final out of the eighth. "I like to be in them. I'd like to have it back."
After Cano sent his second pitch of the inning over the center-field fence, and Curtis Granderson tripled off Hunter one out later, he handed the ball to Patton after striking out former teammate Mark Reynolds.
"Tommy's been throwing the ball well for us," Showalter said of the possibility of going with a lefty to face Cano instead. "Tommy's a good option for us regardless of who's hitting. I think Cano's a threat regardless of who's pitching."
Showalter, who has alluded to having a banged-up bullpen -- and avoided using late-inning righty Darren O'Day in particular -- called on rookie Kevin Gausman for a second inning that resulted in four runs in Tuesday's loss, making Wednesday's scene all too familiar.
Asked if his current bullpen situation changes how he manages the late innings, Showalter said: "Of course, but you've never heard me talk about it except when you ask me. It is what it is. The Yankees have had some situations they've had to deal with, too. So it's part of it."
It also squandered the club's second successive quality start, with Feldman turning in 7 2/3 innings as the righty -- acquired in a midseason trade from the Chicago Cubs -- continues to be a rock for the Orioles' rotation down the stretch. Coming off his first career shutout against the White Sox over the weekend, Feldman held the Yankees to three runs on three hits and two walks to mark his third consecutive outing of seven innings or longer.
The veteran righty, who has pitched to a 1.77 ERA over his last six starts, allowed a first-inning run and a pair of solo homers to Granderson and Alex Rodriguez. Feldman allowed a two-out hit to Cano after that, but held firm and went on to retire the next six Yankees. He exited to a rousing ovation from the crowd of 20,141 at Camden Yards after a two-out walk to Brett Gardner, with Hunter getting Rodriguez to fly out to end the inning.
"I think that when you know where the ball is going, you can get some quicker outs that way," said Feldman, who has credited his mechanics for getting him back on track. "You can stay in the game a little longer."
Feldman outlasted Yankees lefty Andy Pettitte, who allowed three runs highlighted by Chris Davis' two-out, two-run double in the third. The two-bagger, which scored Brian Roberts and Manny Machado, made Davis the first player in Orioles history to record 40 doubles and 40 homers in the same season and gave the O's a one-run lead.
J.J. Hardy doubled in Valencia in the next frame to push the Orioles' third run across, with Valencia also picking up leadoff singles off Pettitte in the second and sixth that went for naught.
"They're tough. Real aggressive," Pettitte said of the Orioles' lineup. "Obviously we've seen them a lot. They know what I'm trying to do to them. You've got to be sharp. I was thankful I was able to give us a decent outing tonight."
The Orioles put themselves in a good position to add on after chasing Pettitte from the game on a one-out walk to Nate McLouth in the seventh, but couldn't deliver. McLouth -- who doubled and scored off closer Mariano Rivera in the ninth -- was called out trying to steal second, and the O's squandered a pair of singles off reliever David Robertson in the eighth.
"That's the tough part. Being in September, being in the race, losing a game late, that's going to be tough," said Hunter, who watched the Orioles pull within one on Roberts' two-out RBI single in the ninth.
"This is a resilient crowd, a good group to be around, hopefully [we] come back tomorrow and go to work."
Brittany Ghiroli is a reporter for MLB.com. Read her blog, Britt's Bird Watch, and follow her on Twitter @britt_ghiroli. This story was not subject to the approval of Major League Baseball or its clubs.