Lough leaving old allegiances behind
Lough leaving old allegiances behind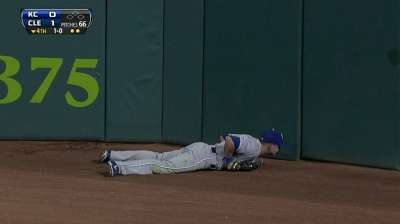 CLEVELAND -- David Lough grew up coming to Progressive Field and cheering on the Indians. Now, as a Major League player, he's doing whatever he can to beat them.
On Tuesday, Lough made two memorable plays that helped Kansas City even the series with a 6-3 win. In the bottom of the fourth, Jason Kubel ripped a ball deep into right field. It looked like trouble for the Royals, until Lough, sprinting backward and nearing the warning track, made an unlikely catch before colliding with the wall. Then, in the eighth inning, Lough laced a hard liner into right for a triple and soon came around to score.
"I think the triple would probably be better for the team, more exciting for me, just because we scored another run," Lough said a day later. "It kind of gave us a little momentum, so it kind of helped us out."
Lough played in 20 games for the Royals last season, three of which were in Cleveland. That was special for Lough, who's from nearby Akron, Ohio. Nowadays, though, tilts at Progressive Field are more like any other.
"Last year, I had a lot of people come up," Lough said, "and this year it's just kind of like immediate family and stuff. I had some friends out in right field, but the whole huge crowd I don't think comes anymore. They'd rather watch it on TV, I think."
Mark Emery is an associate reporter for MLB.com. This story was not subject to the approval of Major League Baseball or its clubs.